Ministry of Education, Youth Affairs and Sports
Release Date:
Friday, 3 July 2015 - 4:30pm
Minister for Education and Culture Honourable Myron Walwyn Remarks for the
2015 Bregado Flax Educational Centre - Secondary Division Graduation Ceremony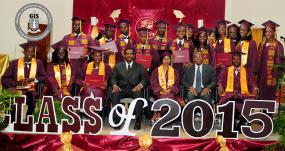 It gives me great pleasure to congratulate the members of the Bregado Flax Educational Centre - Secondary Division, Class of 2015. Indeed you all have come a long way, and with your families, friends and teachers, today our entire Territory celebrates with you this significant accomplishment along your educational journey.
I have had the pleasure of working on a number of initiatives in education and youth development - from youth employment, the development of our youth policy, the opening of a true technical secondary school, even the launch of our illustrious Territorial song and wear. But graduands, there is one item that keeps evading me but I will work diligently to realise this before my second term in office ends - how can we get this graduation to last just 90 minutes.
To work towards this graduands, I will offer these very brief remarks of encouragement.
This Territory continues to be proud of all of you, Class of 2015. Though you may leave the walls of high school and we now recognise you as young adults, we will continue to invest in your development and we will continue to expect great things of you. As you advance in life, we simply ask that you remember to always reach back and continue to support the people and community that have invested so much in you.
The Virgin Islands is presently navigating choppy waters in our development. Our Government must find means to continue to do business and present opportunities for you our graduands, but at the same time, policies and the way we traditionally do global business continues to shift. How will the Virgin Islands navigate these new waters? Graduands, much of that will depend on how well each and every one of you do in this next phase of your lives.
This country is depending on you to develop new ideas and new industries to continue to advance our society. In short order you will be challenged with new levels of responsibilities, whether you choose to move on to tertiary education or join our labour force. We will need your youthful energy to help us transform business in the Virgin Islands so that we can maintain our relevance in the world and provide opportunities for those that will come after you.
As you go about developing your careers, graduands I ask that you always remember that you must give back to the country that has given you so much. Your class was the first to be required to complete our National Citizen Service Programme where each of you were challenged to give back 120 hours of community service across the Territory. My hope is that you were able to learn from the persons and organisations that you assisted, and that you continue to assist some of those causes.
We cannot leave it up to any Government alone to build this great country of ours. Each and every resident must be involved and we hope that by your participation in that programme, you can identify how you can be of service to your fellow residents and this country. I strongly believe that is how you truly demonstrate Virgin Islands pride.
Some of your classmates made the mistake of not completing those hours in the time frame allotted and I hope that they will share their story with the next graduating class of how some almost didn't have the opportunity to sit in this ceremony, despite their GPAs, because they didn't take the National Citizen Service graduation requirement as seriously as they should.
I want to remind parents who have students in our secondary school system of the Virgin Islands, that the National Citizen Service is a mandatory requirement for graduation. We were lenient this year and extended the service deadline. I will say this in advance, that we will not be so lenient the next time.
As our community is aware, we have added an additional year to the secondary school system by the introduction of the K-12 model to ensure that our students master subject areas and are truly ready to compete at the tertiary level or in our labour force. As such, next year we will not have a graduating class, but our community will look forward to celebrating the Class of 2017.
Plans are afoot for the implementation of credits in our senior secondary schools. The introduction of a credit system at the secondary level of the Virgin Islands' schools has been in discussion and very soon it will be another modification to what currently exists. The rationale for the introduction of credits is to offer students a wider range of subjects for study based on ability and interests and to further align the Virgin Islands' Education System with internationally accepted standards.
This system will require students to accumulate credits at the Senior Secondary School level to be promoted to the next grade level and ultimately to earn a diploma at the end of Senior School. Prior to the beginning of the senior year (10thGrade) each student will be required to register for the Programme of choice to be undertaken in the Senior Secondary School.
Each course is designed with a weight or credit value. The credit system will enable students to accumulate credits over a three-year period and hence meet the qualifications for graduation.
In addition to being able to write CSEC exams, students will have the opportunity to complete the first module of CAPE examinations or be a part of the Dual Enrolment Programme with H. Lavity Stoutt Community College in Grade 12.
There ends my formal remarks and now it is my pleasure as Minister of Education to announce the scholarship candidates of 2015 – subject to their success in passing at least 5 CXC CSEC subjects including Mathematics and English.
Within the 2015 Graduating Class of the Bregado Flax Educational Centre, there are eight graduands who are eligible to receive scholarships pending their CXC CSEC examination results. In alphabetical order, I am advised that those students are - and students please stand and be recognised when your name is called:
Hannah Bridgewater
Desnique Collins
Johanna Gibson
Jhaved Jones
Tia-Racquel Modeste
Kaveh Penn
Kadijah Roberts
Myron Williams
I cannot take my seat without sharing my thanks and appreciation for the teachers and administration of Bregado Flax Educational Centre Secondary Division, led by Acting Principal, Paul Fenty and supported by an amazing and supportive team of teachers and administrators. Your hard work and dedication has not gone unnoticed and on behalf of the people of the Virgin Islands, I say a heartfelt thank you.
The job that you do on a daily basis is important to the successful development of our young people, but it is also important to the successful development of this Territory. As the world is changing, there are continuously greater demands on our students to be prepared for those changes. That is why we need you to continuously ensure that you also work to evolve your teaching style to meet these new demands on students and differing learning styles of today's pupils.
I take this time to also encourage you our educators to continue with your education and professional development by taking advantage of the offerings from the Ministry of Education. Create and maintain Professional Learning Communities in which you can share and gain ideas to improve instruction and help us to truly create that culture of excellence in our schools and in the lives of our students.
Next school year we will welcome your new principal, Ms. Glenda Stevens who we have every confidence will continue and build upon the legacy of this institution.
Parents, this afternoon will end a chapter in the lives of your children, but I ask you to continue to watch over them and guide them. They will all need our support and as a community we should all endeavour to ensure that our young people succeed in their ambitions. Where they are successful, so too will our communities and the Virgin Islands.
Once again graduands, congratulations. Take advantage of your youth and use this time of your lives to build yourselves and your careers so that you can help advance this country. The entire Virgin Islands is counting on you to realise your dreams and we look forward to celebrating once more with you. All the best graduands, we love you.