Office of the Deputy Governor
Release Date:
Thursday, 3 December 2015 - 5:00pm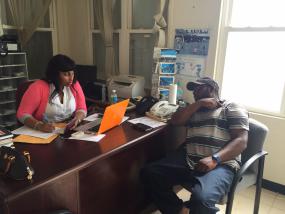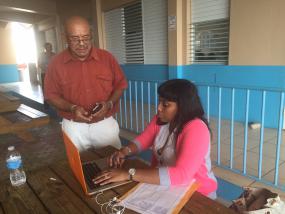 The Office of the Deputy Governor is encouraging public officers to register for the National Health Insurance (NHI).
Deputy Governor Mrs. V. Inez Archibald, CBE in her November monthly message to public officers encouraged all officers to register for NHI ahead of the December 31 deadline.
The Deputy Governor stated that on January 1, 2016, public officers who have not registered for NHI will be without Government subsidised health insurance coverage, as Government's contract with Bupa Insurance Company expires on December 31, 2015.
She added, "Public officers must also bear in mind that all deductions for NHI will commence in January 2016 whether or not employees have met the 31st December registration deadline. But those who have not met that deadline will not be eligible to access NHI coverage until three months later, on 1st April 2016."
The Office of the Deputy Governor has extended services to the sister islands to ensure public officers who reside on these islands receive assistance and register for NHI.
Senior Assistant Human Resources Manager in the Deputy Governor's Office Ms. Alisha Findlay visited Virgin Gorda and Anegada last week and assisted 30 public officers in registering for NHI. The visits were coordinated by the Sister Island Coordinator Mr. Vincent Wheatley and supported by the District Officers.
Mrs. Yvette Faulkner-Grant of the Civil Registry and Passport Office in Virgin Gorda will continue to provide support to public officers with the registration process.
The Government's Department of Human Resources announced in October that an online registration facility located at www.vinhi.vg. was created with assistance of the NHI Team. Public officers need only their Government employee number and an email address to register, and registration for dependent children and spouse, where applicable, was encouraged.
The National Health Insurance Team will continue its registration efforts on the sister islands for private sector employees. Registration will be done at the following dates and times.
December 5 and 19 in Virgin Gorda at the Social Security Board Conference Room in the Vanterpool Building from 10:00 a.m. – 4:30 p.m.
December 6, in Anegada at the Emile Dunlop Community Centre from 11:00 a.m. until 4:00 p.m.
December 12, in Virgin Gorda at the Robinson O'Neal Memorial Primary School from 10:00 a.m. until 4:30 p.m.
December 13, at Rudy's in Jost Van Dyke from 10:00 a.m. until 3:00 p.m.
The National Health Insurance Act took effect on December 1, 2015. It aims to provide all BVI residents with comprehensive and affordable health care coverage.
The Office of the Deputy Governor is a part of Central Government and functions as the Ministry office for the Governor's Group of Departments. More directly, on the macro level, the Office of the Deputy Governor is responsible for monitoring the quality of service delivery, and developing and implementing public sector reform initiatives for greater efficiency and enhanced service delivery.
Author