Premier's Office
Release Date:
Tuesday, 20 October 2020 - 5:49pm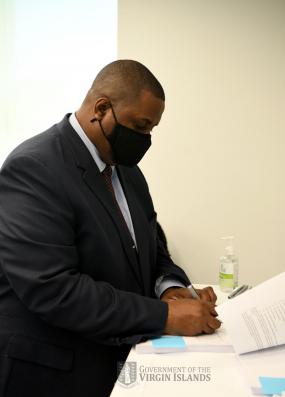 Premier and Minister of Finance, Honourable Andrew A. Fahie has said the Territory's greatest asset is its people and that it is the mantra of the Government to build the people of the Virgin Islands.
Premier Fahie was speaking at the contract signing for the slope stabilisation and road rehabilitation works at Little Dix Hill and Bob's Gas Station road and repairs to the Vanterpool Building on October 15.
Premier Fahie said taking care of the people is not about popularity but that it is about the long-term prosperity of these islands and fulfilling purpose through the actions of the Government when these projects are finished.
The Premier said, "When all of this is finished and all is said and done, we would have ensured that we strengthened the capacity of our people, increased the capacity of our people, and strengthened and increased the capacity of our contractors as they not only work in the BVI, but anywhere in the world."
Premier Fahie added, "We must ensure that we continue this same trend even in job opportunities in the public sector and private sector. We know that we will need some help from outside to help build our Territory, but we cannot build the Territory without its people and that is the mantra of this Government. We will do it together, on the road towards being more self–reliant."
The Premier further stated that it does his heart proud when he sees Virgin Islanders "moving forward step by step, stronger and stronger," as a result of the investment made by Government agencies.
He added, "This is when you are moving forward in the best interest of the people of the Virgin Islands and this is what it is about so that generations will be able to say thank God for the generation that went before them and those present must make sure that we continue to strengthen the foundations so that the generations after us will thank God that we did what we had to do."
The Government of the Virgin Islands remains committed to the development of Virgin Islands contractors and the construction workforce.
###
NOTE TO EDITORS:
Photo 1:1 – Premier and Minister of Finance, Honourable Andrew A. Fahie signing a contract at the Recovery and Development Agency contract signing on October 15.
Author