Ministry of Health & Social Development
Release Date:
Saturday, 5 September 2020 - 8:13am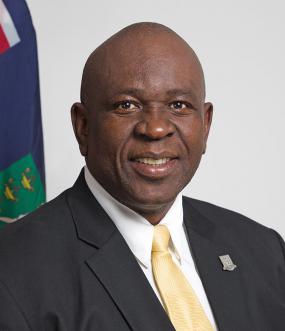 Minister for Health and Social Development Honourable Carvin Malone announced Cabinet's decision for the Social Monitoring Task Force to be established under the Ministry of Health and Social Development.
During the official COVID-19 Update, Honourable Malone explained that the Task Force would consist of re-assigned public officers or qualified persons outside of the Public Service as designated by the Health Minister with the support of the Deputy Governor's Office.
He highlighted that the Social Monitoring Task Force will cooperate with the Royal Virgin Islands Police Force and the Environmental Health Division in enforcing the Public Health COVID-19 Control and Suppression Measures Order, 2020.
The Orders are made for the purpose of protecting public health and the prevention, control and suppression of the spread of COVID-19 virus by outlining restrictions to gathering sizes; closure of schools to in-person classes; and physical distance protocols and sanitisation measures. The order also outlines the guidelines on the usage of face masks and face shields in public space and the penalties if persons and establishment's fail to comply.
He also stated that Cabinet decided that the Social Distancing Task Force will ensure that the Public Service adheres to COVID-19 protocols established for the safety of staff and the management of office operations.
The public is advised that limited essential Government offices will be operational from September 7 to 16 in the first instance from 8:00 a.m. to 12 noon. Persons can also visit www.bvi.gov.vg for more information on the Territory's COVID-19 updates.
Author