Premier's Office
Release Date:
Tuesday, 20 December 2016 - 1:05pm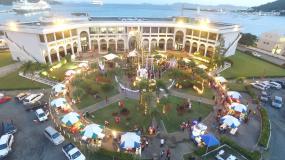 Premier and Minister of Finance, Dr. the Honourable D. Orlando Smith, OBE has described his Fourth Annual Christmas Around the World as a successful and fruitful event.
The event, held on Saturday, December 17 at the Central Administration Complex, was observed under the theme "Premier's Christmas Around The World: Many Cultures, 'One BVI' Celebration."
Premier Smith, in remarks at the event, thanked the various countries for their participation and urged the persons present to enjoy the diverse dishes prepared by each country.
The Premier stated, "Each one of you contributes to the economy of the Virgin Islands, and so I find it fitting that we all unite to celebrate the occasion."
Permanent Secretary in the Premier's Office, Mr. Brodrick Penn said the participation of the different countries was a true reflection of the care which exists in the community.
Mr. Penn said, "We at the Premier's Office are especially proud to put our best foot forward and join with all of you, to celebrate the true significance of the Christmas season."
The 16 countries which participated in the event included Anguilla, Antigua and Barbuda, BVI, Canada, Dominica, Dominican Republic, Grenada, Jamaica, Lebanon, Montserrat, St. Kitts and Nevis, Philippines, St. Lucia and Trinidad and Tobago.
The Premier's Christmas Around the World is an annual event which began December 2012, with the purpose of spreading the spirit of camaraderie amongst the various nationalities present in the Virgin Islands, while celebrating Christmas.
###
Photo Credit: Mr. Jerome Fahie
Voice Clip - Dr. Honourable D. Orlando Smith OBE
Voice Clip - Mr. Brodrick Penn
https://bvi.gov.vg/sites/default/files/597_-_audio_clip_1_of_2_-_caw_-_premiers_remarks.mp3
https://bvi.gov.vg/sites/default/files/597_-_audio_clip_2_of_2_-_caw_-_ps_penn_remarks.mp3
Author