Ministry of Health & Social Development
Social Development
Release Date:
Tuesday, 26 April 2022 - 5:40pm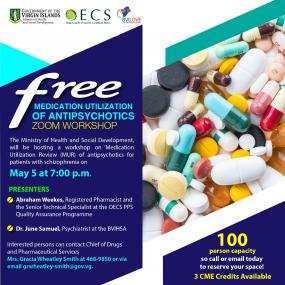 The Ministry of Health and Social Development will be hosting a workshop on 'Medication Utilisation Review (MUR) of antipsychotics for patients with schizophrenia in the British Virgin Islands.
Chief of Drugs and Pharmaceutical Services, Mrs. Gracia Wheatley-Smith said a case study was done at the Health Services Authority (BVIHSA) from February 1 to March 6 where 153 prescriptions were monitored to review how the medicines were prescribed.
Mrs. Wheatley-Smith said the results from the study were evaluated against several internationally recognised standards including the American Psychiatric Association Practice Guidelines on the treatment of Schizophrenia and the National Institute for Health and Care Excellence (NICE) Clinical Guidelines for Psychosis, Schizophrenia in adults.
The Chief of Drugs explained that a Drug Utilisation Review (DUR) or a medication utilisation review is defined as an authorised, structured, ongoing review of prescribing, dispensing and use of medication.
"We want to make sure that the prescribing of the medication matches with international standards. The workshop will be hosted on the May 19 at 7:00 pm via the zoom platform and will be used to present the results of the Medication Utilisation Review (MUR). It will also highlight any deviation from international standards and present recommendations to bridge those gaps to ensure that patients are getting optimal care," the chief said.
Registered Pharmacist and the Senior Technical Specialist at the OECS PPS Quality Assurance Programme Mr. Abraham Weekes and Psychiatrist at the BVIHSA Dr. June Samuel, will be facilitating the workshop.
Mr. Weekes will present on the study while Dr. Samuel will speak on Schizophrenia treatment since the study was conducted.
Interested health professionals and members of the community can register to attend this workshop, which has been assigned 3 CMEs by contacting the Mrs. Wheatley Smith at 468-9850 or via email grwheatley-smith@gov.vg
Attendance to this workshop is free and is on a first registered basis. Persons are asked to register early to reserve a space as the platform has a hosting capacity of 100 persons.
The World Health Organization (WHO) defines Schizophrenia as a condition that is characterised by significant impairments in the way reality is perceived and changes in behaviour related to persistent delusions, persistent hallucinations,: the experience that one's feelings, impulses, actions, or thoughts are not generated by oneself and disorganised thinking.
People with schizophrenia often also experience persistent difficulties with their cognitive or thinking skills, such as memory, attention, and problem-solving.
The review was undertaken by the Organization of the Eastern Caribbean States Pooled Procurement and Supply Chain Management Unit (OECS/PPS), the BVI Health Services Authority and coordinated by the Office of Chief of Drug and Pharmaceutical Services, Ministry of Health and Social Development.
The Government of the Virgin Islands is committed to improving the health of the people of the Virgin Islands.
Author