WELCOME REMARKS BY DEPUTY GOVERNOR MRS. ROSALIE ADAMS
T THE OFFICIAL SWEARING-IN AND WELCOME CEREMONY
OR THE 13TH GOVERNOR OF THE VIRGIN ISLANDS
MR. AUGUSTUS JASPERT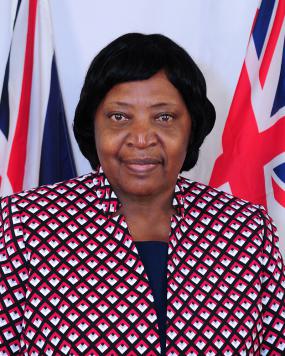 Your Excellency the Governor, Mr. Augustus Jaspert, Mrs. Millie Jaspert and sons
Premier and Minister of Finance Hon. Dr. the Honourable D. Orlando Smith, OBE
Her Ladyship the Honourable Madam Justice Vicki Ann Ellis
Deputy Premier and Minister for Natural Resources and Labour, Dr. the Hon. Kedrick Pickering and Mrs. Pickering
Minister for Communications and Works, Hon. Mark Vanterpool and Mrs. Vanterpool
Acting Attorney General, Honourable JoAnn Williams-Roberts
His Lordship the Honourable Mister Justice Barry Leon
Leader of the Opposition, Honourable Andrew Fahie and Mrs. Fahie
Financial Secretary, Cabinet Secretary, Permanent Secretaries
Madam Registrar of the Supreme Court, Mrs Erica Smith- Penn
Heads of Departments and other senior public officers
Members of the Media
Ladies and Gentlemen gathered here and those joining us by way of radio and YouTube, good morning
We are gathered here for a very short but highly significant ceremony 'the Swearing in of our new Governor'.
Governor Augustus Jaspert has taken office as Her Majesty's thirteenth Governor of the Virgin Islands as of 21 August 2017. He comes with a wealth of experiences that span the various government agencies. These can be seen in his biography - the full text of which is found in today's programme. It will also be posted on the Government's website and Face Book for our wider audience.
Suffice it to say, he has experiences in most aspects of government services such as policing and justice, in this regard, I hasten to add that Governor Jaspert has served as a Magistrate in the London jurisdiction. Other significant areas of his expertise are those of immigration, security, emergency planning and response as well as supporting vulnerable children and those who needed extra support due to learning or physical disabilities.
He is joined in the Virgin Islands by his wife Millie, They have two sons Oscar and Tobias, ages nine and five.
Cognizant of the younger members of the Jaspert family, and the need for our youth to be begin to appreciate the work of Government at various levels, for the first time in our history, children and young people have been invited to participate in a Swearing in Ceremony for the Governor. Let it be clear Governor, that you and your entire family are welcomed into our community and are supported by us all.
Welcome to the British Virgin Islands and we wish you every success in all that you undertake. May God bless you and your family and these beautiful Virgin Islands.
Author
Ministry or Department Associated with this News Article: