Ministry of Education, Culture, Youth Affairs, Fisheries and Agriculture
Release Date:
Monday, 1 June 2015 - 11:00am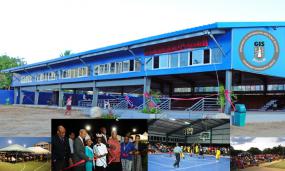 The much anticipated Anthonie "Jeffery" Caines Sports Arena in Virgin Gorda was officially opened on May 27.
The arena was named after the late Anthonie "Jeffery" Caines who contributed significantly to the development of basketball on the island of Virgin Gorda.
Residents celebrated the grand opening of the Sports Arena with activities including three basketball games. Minister for Education and Culture, Honourable Myron V. Walwyn, and Minister for Health and Social Development, Honourable Ronnie W. Skelton, performed the "First Hoop" signaling the start of the basketball games.
Premier and Minister for Finance, Dr. the Honourable D. Orlando Smith, OBE in remarks at the opening of the facility said, "The Anthonie "Jeffery" Caines Sports Arena is a sporting facility which is expected to ultimately improve the quality of life of our young people on Virgin Gorda, and by extension, the entire Virgin Islands."
The Premier added, "We are anticipating that this facility will be able to host a variety of community and recreational activities to foster healthy lifestyles and reduce health risks, particularly in our youth."
Minister for Education and Culture, Honourable Myron V. Walwyn spoke of the importance of creating opportunities for growth and development for young people across the Territory.
Honourable Walwyn said, "Our job as Government is to ensure that the young people and residents of the Territory have the opportunity to live up to their full potential and positively contribute to their communities. The Anthonie "Jeffery" Caines Sporting Arena is a facility that is long overdue, but also comes right on time to serve the needs of this island's growing youth population."
Leader of the Opposition and Representative for the 9th District, Honourable Ralph T. O'Neal, OBE, encouraged the Virgin Gorda community to use the facilities and preserve them for generations to come.
Three basketball games were played including an exhibition game with the "Original" Mystics versus "Original" Mystic Sons. Game 1 featured BVI Women's National Team versus Mystics Under 14 team, while East Rockers 40 Plus team versus Mystics 40 Plus team was the highlight of Game 2.
https://bvi.gov.vg/sites/default/files/215_-_virgin_gorda_scores_with_new_sports_arena.mp3
Author