Ministry of Health & Social Development
Release Date:
Wednesday, 25 March 2015 - 8:45am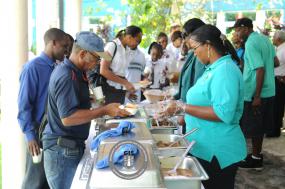 The Environmental Health Division is reminding all food vendors and businesses participating in the Virgin Gorda Easter Festival to register with the Division's Virgin Gorda Officer no later than Friday March 27.
This notice applies to owners of booths, stalls and vending operations on the Festival route and on the Festival Grounds.
Registration forms can be collected from the Division's Virgin Gorda Office and executive members of the Virgin Gorda Festival Sub-Committee.
All food handlers engaging in the sale of food and drinks during the festival must possess a valid food handler's certificate. Vendors are to ensure that all food handlers have a valid food handler's certificate present on the days of the events or submit copies of the certificate with the registration form.
The Easter Festival runs from April 4 to 6 and the Environmental Health Division will conduct booth inspections from March 30 to April 2 between the hours of 3:30 p.m. to 4:30 p.m. The Division will also be on hand to carry out surveillance during these events.
Food handlers' educational sessions are scheduled for participants of the Easter Festival on Virgin Gorda on Wednesday March 25, at 1:30 p.m. and Wednesday April 1, at 9:00 a.m. at the conference room of the Flax Building.
Persons are encouraged to register for the two hour sessions early to avoid overcrowding.
Persons renewing their food handler's certificate are reminded to bring their expired certificate, work permit and/or picture identification.
Persons seeking to obtain a food handler's certificate for the first time are also asked to bring the result of their stool analysis test, work permit and /or picture identification, social security card and one recent passport size photograph.
The Environmental Health Division is committed to ensuring that all aspects of the environment with the potential to negatively impact health are managed efficiently to enable all persons in the BVI to attain and maintain optimal health and social well-being.
Author