Ministry of Education, Culture, Youth Affairs and Sports
Release Date:
Tuesday, 12 July 2016 - 11:19am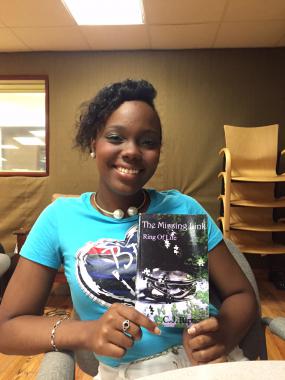 Local author Ms. Chelsea Jno Baptiste will add to the Virgin Islands' literary tradition when she launches her book, 'The Missing Link: Ring of Life' tomorrow, July 13.
Ms. Baptiste, who resides in Virgin Gorda, said she wrote the novel when she was only 14 years old. She said the book highlights a princess who was born with extraordinary powers so overwhelming that she entrusted them into seven rings and cast them off. Now divided, they were lost for centuries. Today, one necklace, two bloodlines, one girl, they become one again, and the story continues.
The book launch ceremony will be the first one on Virgin Gorda, jointly facilitated by the author and the Department of Culture. The ceremony will be held at The Bath and Turtle on Virgin Gorda at 5:30 p.m.
Director of the Department of Culture, Mrs. Luce Hodge-Smith is encouraging the public, especially the residents of Virgin Gorda, to support the book's launch.
Book launches are in line with the Department of Culture's mandate to promote Literary Arts in the Virgin Islands by supporting local authors.
For more information, persons should contact the Department of Culture at 468-4373.
The Ministry of Education and Culture is committed to creating a "Culture of Excellence".
Author