Ministry of Finance
Release Date:
Wednesday, 22 July 2015 - 8:45am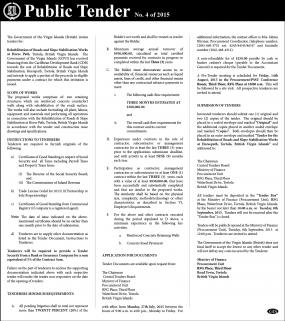 The Government of the Virgin Islands continues to deliver on its commitment to improve the Territory's infrastructure and is inviting tenders for the Rehabilitation of Roads and Slope Stabilisation works at Horsepath, Tortola.
Director of Communications, Mrs. Arliene T. Penn said that the proposed works include the construction of two retaining structures which are reinforced concrete counterfort walls along with rehabilitation of the road surface.
Mrs. Penn added that works also include furnishing all plant, labour, equipment, materials and performing all operations in connection with the rehabilitation of roads and slope stabilisation at Horse Path in accordance with the tender and construction issue drawings and specifications.
The Director of Communications said, "The Government has received financing from the Caribbean Development Bank (CDB) towards the cost of the project, and is therefore pleased that works to rehabilitate, upgrade, and reconstruct damaged roads and stabilise slopes are continuing as it serves to improve the quality of life, not only for residents of the Virgin Islands, but also for our visitors."
Interested tenderers are required to submit original certificates of Good Standing in respect of Social Security and all taxes including Payroll Taxes and Property Taxes from The Director of Social Security Board, the Commissioner of Inland Revenue and from Commercial Registry if the company is a registered company. A valid trade licence for 2015 and a tender security from a bank or insurance company for a sum equivalent of five percent of the contract sum is also required.
Tender documents are available upon request from, The Chairman, Central Tenders Board, Ministry of Finance (Procurement Unit) RFG Place, Third Floor, Waterfront Drive. Tender documents are available from Monday, July 27.
A non-refundable fee of $250.00 payable by cash or bank cashier's cheque (payable to the Accountant General) is required for the tender documents. Interested tenderers should submit one original and two copies of the tender and all tenders must be deposited in the tender box at the Procurement Unit by the bearer not later than 10:00 a.m. on Tuesday, September 8. Tenders will be publicly opened at the Ministry of Finance (Procurement Unit) on Tuesday, September 8 at noon. Tenderers are invited to attend.
A pre-tender meeting is scheduled for Friday, August 14 in the Procurement Unit Conference Room, RFG Place, Third Floor at 10:00 a.m. All prospective tenderers are invited to attend.
For more information, interested persons can telephone the Procurement Coordinator Mrs. Ishma Rhymer at the Procurement Unit at (284) 468-4243.
Author