Ministry of Education, Youth Affairs and Sports
Release Date:
Tuesday, 27 September 2016 - 11:42am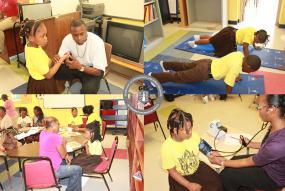 In a continuous effort to enhance skills, Physical Education and Liaison teachers in the Virgin Islands are being trained at a Physical Literacy Workshop being held as part of the Healthy School Intervention Programme.
Physical Literacy is the development of a 'movement vocabulary' of fundamental movement skills and fundamental sport skills.
The workshop, being held on September 27 and 28, was organised through the collaborative efforts of the British Virgin Islands Olympic Committee; Canadian Sport for Life (CS4L); Canadian Olympic Committee; Caribbean Association of National Olympic Committees (CANOC); the Ministry of Education and Culture; and the Ministry of Health and Social Development.
The Virgin Islands is one of six Caribbean territories that have been selected by CANOC to benefit from the CS4L Programme, which has two major components including Long Term Athletic Development and the Physical Literacy Programme.
Acting Chief Education Officer, Mrs. Connie George explained, "Since the aim of the Healthy School initiative is to improve the well-being, health, and academic achievement of school children in the Virgin Islands, by improving their diet and physical activity patterns, the Physical Literacy component of the Canadian Sport for Life Programme perfectly complements the Healthy School initiative.
She added, "This programme supports and emphasises the need for daily physical activity for all students thereby ensuring the practice of a healthy lifestyle through physical movement for our children and young people."
Education Officer for Healthy Schools, Ms. Beverlie Brathwaite said the workshop is focused on enhancing teachers' skills in physical literacy and explained, "These skills are the basis for moving with competence and confidence in every kind of activity and in different environments. Just as we teach children literacy and numeracy skills, we are introducing physical literacy to help them become well-rounded individuals who are motivated to engage in physical activity for life."
The Physical Literacy workshop will be facilitated by CS4L Director of Physical Literacy, Mr. Drew Mitchell. Mr. Mitchell works as a consultant focused on the development of physical literacy at the community level.The workshop is being held at the Fort Burt conference room and ends on September 28.
The Healthy School Intervention Programme is an effort between the Ministries of Health and Social Development and Education and Culture. The programme is aimed at promoting the adoption of healthy lifestyle behaviours of school children in 15 primary schools in the Virgin Islands.
The Ministry of Education and Culture is committed to 'Creating a Culture of Excellence' through the promotion of healthy nutrition, physical activity and overall well-being in students.
Author