Ministry of Natural Resources and Labour
Release Date:
Monday, 12 September 2016 - 3:26pm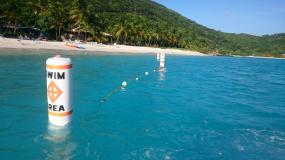 A swimming area has been demarcated at the White Bay beach, Jost Van Dyke to provide a safer swimming experience for visitors, residents and the wider British Virgin Islands community.
The markers for the swimming area of the beach were implemented after several public meetings with Jost Van Dyke residents and vendors who expressed concern for the safety of beach-goers and sea-bathers, who shared the same space as numerous boaters.
The public meetings were hosted by Representative for the Second District,Honourable Melvin "Mitch" Turnbull,along with representatives from the Ministry of Natural Resources and Labour and the Department of Conservation and Fisheries.
Honourable Turnbull noted the concerns raised saying that White Bay is one of the most prestigious beaches in the world and the safety of visitors to the beach must be priority in order to preserve the 'experience and feel' of White Bay.
He said, "Many residents have complained that visitors on the beach experience disruption from vessels and, most times, are too close to boaters in the area."
Honourable Turnbull added that the problem has been consistent and risky and said, "It was an active decision to implement the swimming area which is being enforced to protect and prevent any serious incident from occurring as White Bay rises in popularity."
Permanent Secretary of the Ministry of Natural Resources and Labour, Mr. Ronald Smith-Berkely said that safety at sea was very important and it is a part of the Ministry's directives for the comprehensive overseeing of beaches.
He stated, "We want to encourage safe boating and safe swimming at all our beaches, including White Bay. The markers will show boaters where they can go, how far they can go into the bay and will ensure that locals and tourists get an improved beach experience away from the loud noise of vessels, or the dangers of propellers and being struck, while in the water."
The Ministry of Natural Resources and Labour endeavours to effectively manage and administer the Territory's natural resources in a manner that ensures long term sustainability.
Author