Ministry of Education, Culture, Youth Affairs and Sports
Release Date:
Monday, 23 February 2015 - 1:15pm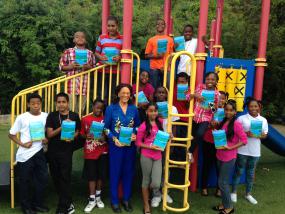 Several students from primary schools throughout the Territory have received copies of a book titled, 'This Land: A trust from God', that focuses on the environment and tackles vital areas of the Virgin Islands value system and culture.
The distribution of the book written by local author Mrs. Verna Penn Moll is a part of an initiative which began last year and is expected to continue until all schools are covered.
According to Permanent Secretary in the Ministry of Education and Culture Dr. Marcia Potter, the book has tackled vital areas of the value system and culture which should be addressed and instilled in young people.
In an effort to ensure that all students of primary schools receive a copy of the text, Mrs. Penn- Moll has partnered with several members of the community.
So far, presentations have been made to several schools including Joyce Samuel Primary with partners Bernard Penn and Timothy Penn, Enis Adams Primary partnering with Edwin Adams, Isabella Morris Primary with partner Lansdell Potter, and Leonora Denville Primary partnering with Romeo Cameron and Company,
Other recipients are Robinson O'Neal Memorial Primary partnering with Dr. Hubert O'Neal, Bregado Flax Educational Centre and their partners Keith Flax, Elihu Rhymer, Andrew St Hilaire, and Faye Reese, and Claudia Creque Educational Centre partnering with Ernestine Penn.
Additional presentations were made to Jost Van Dyke Primary with partner Ernestine Penn and Althea Scatliffe Primary partnering with James Todman.
At the book launch last year, presentations were made to the Willard Wheatley Primary, Francis Lettsome Primary, Alexandrina Maduro Primary, Ebenezer Thomas Primary and the Ivan Dawson Primary. Their partners were Neil Smith, Dieter Esser, Bevis Sylvester and Michael Thomas.
The Ministry of Education and Culture is grateful to those community spirited individuals who partnered with author Verna Penn- Moll to present the book to primary school students throughout the Territory.
Author