Ministry of Health & Social Development
Release Date:
Thursday, 1 July 2021 - 6:47pm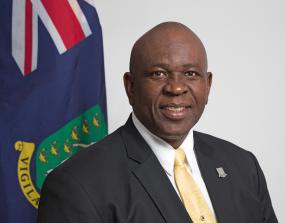 I bring Greetings to everyone in the Virgin Islands, the Region and the World.
Following my report on Tuesday, June 29th 2021, the Acting Chief Medical Officer (CMO), Dr. Ronald Georges has reported that an additional 42 positive cases of the COVID-19 virus have been detected. This brings to 91 the total active COVID-19 cases in the Virgin Islands.
The CMO has been directed to issue a comprehensive statement outlining the measures taken by Government, statutory bodies, public and private institutions; private companies and public and private individuals to lessen the negative effects of the virus.
As an update of the progress of the vaccine rollout, to date, 12,993 persons have received their first doses, while 9,254 have received their second doses. An analysis of these totals shows that:
On Tortola, 10,810 first doses and 7,939 second doses have been administered to date;
On Virgin Gorda 1,953 first doses and 1,199 second doses were administered;
On Jost Van Dyke 98 first doses and 50 second doses were administered; and
On Anegada 132 first doses and 66 second doses were administered to date.
Again, I want to make it clear that all vaccines in stock at the BVI Health Services Authority and at private medical healthcare facilities are expiring on July 31. I am again appealing to everyone who has not received their first dose to do so before July 3 to ensure that they receive the second dose within a four-week timeframe and are fully vaccinated as per the vaccine manufacturers' guidelines.
If you are not going to do it for you, then do it for your parents, grandparents, your great aunts and uncles! They are our most vulnerable who are impacted by this disease!
If you are not going to do it for you, then do it for your children. At the end of the day we are hoping the protection of the adult population will in turn protect each child under the age of 17 in this Territory.
If you are not going to do it for you, then do it for your employers! Every person vaccinated in a workplace continues to protect other employees and ensures that work continues, services continue to be rendered and you can get paid.
I will continue to reiterate the fact that new, more aggressive variants continue to emerge, as the virus mutates and spreads rapidly from one region to another, increasing the risk of severe illness and death. The reality is none of us knows how the virus will affect us. We simply must be vigilant and do the next best thing, so please do not wait, VACCINATE! Protect yourself, your loved ones and our economy! I thank you.