Ministry of Natural Resources and Labour
House of Assembly
Release Date:
Thursday, 15 April 2021 - 6:03pm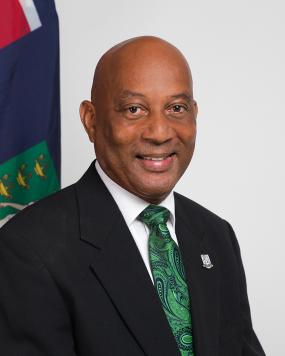 STATEMENT BY THE HONOURABLE VINCENT WHEATLEY
MINISTER FOR NATURAL RESOURCES, LABOUR & IMMIGRATION
SEVENTH SITTING OF THE THIRD SESSION OF THE FOURTH HOUSE OF ASSEMBLY
THURSDAY, 15TH APRIL, 2021
UPDATE ON THE STONY CORAL TISSUE LOSS DISEASE
Mr. Speaker, thank you for giving me the opportunity to give another update on the Stony Coral Tissue Loss Disease that has been affecting our waters. The Virgin Islands are blessed with beautiful underwater life. Our corals provide vital ecosystem services in the form of food, shoreline protection against wave action, which would erode our beaches and shores and are main attractions to residents and tourists alike. Over several decades, Government has partnered, through the National Parks Trust and the then Conservation and Fisheries Department to protect and conserve this vital resource so that future generations may enjoy the benefits of healthy ecosystems.
Mr. Speaker, this threat to our reefs, which emerged in 2020 as we were also mitigating the impacts of the COVID-19 pandemic, was devastating. As I noted in my last update Mr. Speaker, Stony Coral Tissue Loss Disease or SCTLD for short, aggressively wastes away the calcium-based structure supporting the living tissue of the coral. In a matter of a few weeks, otherwise healthy reef communities are going to be decimated if the disease were left unchecked. Colonies where the coral tissue is no longer present are covered with filamentous algae being a clear indication of how critical it is to save our ridge reef systems so that they do not change into a macro algae environments of little biodiversity and economic value.
The impact of doing nothing would be tremendous on our natural environment and our economy, Government in partnership with the private sector has responded to the challenge. The Coral Strike team (CST) which was created, and led by the National Parks Trust of the Virgin Islands and consisting of not only officers from the Trust, but also the Environmental Unit of the Ministry of Natural Resources, Labour and Immigration and Beyond the Reef, a local non-governmental organization began working assiduously to save this precious resource. Late December of 2020, the CST expanded with volunteers from Dive Corporation, Dive BVI, We Be Diving, SunChaser SCUBA, Cuan Law, Blue Water Divers and Sail Caribbean. Divers were trained in coral identification, disease diagnosis, SCTLD monitoring protocols and treatment measures.
With the assistance of the CST, SCTLD was found present at thirty-three (33) dive sites ranging from Jost Van Dyke, the Southern Cays to North Sound. Fortunately, the disease is not found at the Horseshoe Reef in Anegada. To date, over 3,000 individual coral colonies have been treated. Monitoring efforts continue as new disease lesions can erupt in multiple locations across already treated colonies. Ongoing efforts aim to ensure that the bacteria that causes the disease no longer affects the colony. Every week Mister Speaker, new colonies are treated.
Mr. Speaker, an extensive educational outreach program was launched to educate the public about SCTLD, which consists of billboards and a three-part animated cartoon series created by Naudia Turnbull. Waterproof printed material aims to sensitize boaters as to the need to discharge their ballast waters 1,000 feet away from land. However, SCTLD mitigation efforts are funded by Unite BVI and the Governor's Office.
Mr. Speaker, these and other efforts are aimed to ensure that our beautiful reefs continue to provide the ecosystem services that are critical to our biodiversity, infrastructure and economy. I commend those who are tirelessly working to abate the worse impacts of SCTLD. I also implore boaters to adhere to the requests made. The well-being and longevity of our reefs and natural environment must be safeguarded for the benefit of our and future generations, which is of paramount importance to this Government.
Thank you Mr. Speaker.