Ministry of Education, Culture, Youth Affairs and Sports
Constitutionally Established Departments
House of Assembly
Release Date:
Monday, 30 January 2023 - 3:56pm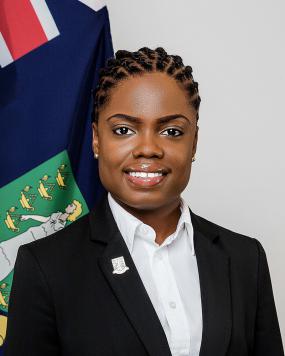 STATEMENT BY HONOURABLE SHARIE B. DE CASTRO
MINISTER FOR EDUCATION, YOUTH AFFAIRS & SPORTS
SECOND SITTING OF THE FIFTH SESSION OF THE FOURTH
HOUSE OF ASSEMBLY OF THE VIRGIN ISLANDS
THURSDAY, 26TH JANUARY, 2023
ELMORE STOUTT HIGH SCHOOL REDEVELOPMENT PROJECT
Madam Speaker, I wish to update this Honourable House on the successful completion of the ESHS Redevelopment project which signified a major investment in the infrastructure that supports education in the Virgin Islands.
In 2017, the August floods and the Hurricanes Irma and Maria in September completely devastated the Elmore Stoutt High School Campus. Administration, teachers and students were displaced and dislocated. Thus in 2019, the reconstruction of the L. Adorothy Turnbull building was crucial to the resumption of school after the devastation of 2017.
Facilities make a difference. The overall building conditions of schools, including thermal comfort, indoor air quality, lighting, noise and internal design elements impact student outcomes and achievements. Naturally, as buildings age, the individual building elements, vary in life expectancy and levels of maintenance. Added to that the impact of the floods and hurricanes of 2017 on school infrastructure across the Territory, especially at the Elmore Stoutt High School was unimaginable.
After five school years and one term, the full complement of staff and students of the Elmore Stoutt High School finally returned to the same campus, for full day school for the first time since the storms of 2017.
I take this opportunity to thank the team at the Ministry of Education, Ministry of Finance, Recovery and Development Agency and the Contractors for your unwavering commitment to the successful execution of this project in a timely and cost-efficient manner.
Following the reopening ceremony of the new wing of the Elmore Stoutt High School on Tuesday, 3rd January, ESHS opened its doors to full day school for all students in Grade 7-12. Approximately 1500 students and 150 educators, assembled on the campus on Wednesday, 4th January. Students and teachers are adapting to the new environment and are excited and elated to be in the new space. The Ministry is pleased with the first few weeks of school and continue to observe and correct matters as they arise through engagement with the Recovery and Development Agency, Contractors and the Maintenance Unit in the Ministry of Education. We are still eagerly awaiting the arrival of some furniture and equipment and we look forward to putting them to use upon arrival. The Ministry would like to thank all stakeholders for their patience and support as we readjust to full day school.
Thank You Madam Speaker.