Ministry of Education, Culture, Youth Affairs, Fisheries and Agriculture
Release Date:
Thursday, 10 September 2020 - 11:13am
STATEMENT BY MINISTER FOR EDUCATION, CULTURE, YOUTH AFFAIRS, FISHERIES AND AGRICULTURE
HONOURABLE NATALIO D. WHEATLEY
AT PROFESSIONAL DAY
PLANS FOR THE 2020-2021 SCHOOL YEAR
MONDAY, SEPTEMBER 7, 2020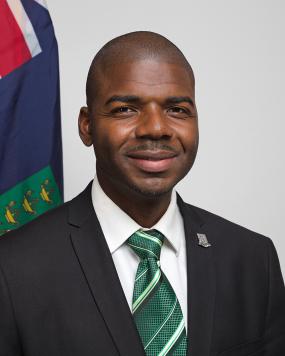 Good morning to all. I am delighted to greet you the educators this morning as we get ready to open our schools for the 2020/2021 academic year. Three years ago yesterday, Hurricane Irma unleashed unprecedented destruction. The fact that we are still on the land of the living is a testament to God's faithfulness to us. I am grateful to God for his guidance and protection over the past three years. Tough times don't last, but tough people do. I thank God that he blessed us with resilience.
Administrators, teachers, I wish you God's blessings and strength for the year ahead, which has presented us with fresh challenges. These are unprecedented times. The fluidity of this global pandemic, COVID-19 has forced us to adjust what we do, and our new normal is still a difficult adjusting period for all of us. But I know we can do it with God's help.
Educators are very special people. Beryl Vanterpool and Shemaine Brewley, God rest their souls, were special. You all are very important. Your true worth cannot be quantified and your contribution is really unlimited as it continues to bear fruit well into the future. To be an educator and the value of teachers many times are under rated, but the home education programme that emerged as a result of COVID-19 illustrated the difficult job of the teacher and your true worth. You showed your strength, determination and commitment when you too suddenly had to learn and accommodate remote education. For many, it was a baptism by fire, but you survived. You are an important group and I want to express gratitude to you.
The 2019 – 2020 school year was a very challenging one for all. Our students have been affected and, in fact, education on a whole has been severely affected. Since March, we had over 4,000 students in both public and private schools who were out of their usual school system. When we returned to school after the Easter holidays, students attended school online and this was how the school year ended.
It was our greatest desire in the Ministry that we would have been back on school campuses for this new school year. However, we are beginning the school year at a time when several active cases of the dreaded Coronavirus are in the Territory. I encourage us not to stigmatize anyone who may be infected. COVID-19 can be easily contracted by anyone, but it is not a death sentence. Please safeguard yourself and your family by observing all the safety protocols of wearing your mask, sanitizing and practicing social distancing.
Cabinet recently approved the Framework for the Reopening of Schools which recognised that with the ongoing pandemic and the need for physical distancing, various scenarios had to be considered. At that time, we were leaning toward a hybrid approach for the 2020-2021 school year. However, we have had to make adjustments to our plans as a result of the recent increase in clusters of positive COVID-19 cases. As I recently announced, Online Schooling will continue for the rest of this year. The Ministry has been given a mandate, however, to conduct fortnightly reviews and report to Cabinet as appropriate.
Before I continue further, since this ceremony is being aired LIVE, I need to use this opportunity to address the subject of homeschooling. By homeschooling I mean parents who pull their children out of our schools(whether online or brick and mortar) and educate these children themselves or with a tutor. Since my announcement that online learning will take place for the rest of this year, there have been discussions in various circles and on social media on the subject.
I wish to advise that the subject of home education is clearly set out in Section 89 of the Education Act, 2004. Prior to the commencement of a home education programme it has to be registered with the Ministry. The process includes providing an educational plan for each student who is receiving home education to the Chief Education Officer three months prior to the commencement of the home education programme. Therefore, for those parents who might be considering homeschooling as an option, please note that this is not an option that can be pursued at this time. You must satisfy the requirements of the Education Act if you are considering pursuing this option. The subject of homeschooling will be further fleshed out in our education communications strategy for this school year.
As Minister, I understand that despite all that is happening, I must find the best ways to ensure our children and young people receive a sound education even in the midst of this vulnerable period. Preventing a learning crisis from becoming a generational catastrophe requires urgent action from all of us. Education is not only a fundamental human right, but an enabling right with direct impact on the realisation of all other human rights. It is a global common good and a primary driver of progress across all 17 common sustainable goals as a bedrock of just, equal, inclusive, peaceful societies. When education systems collapse, peaceful, prosperous and successful societies cannot be sustained. Therefore, we must make all efforts to ensure that everyone can have access and equal opportunities for education.
The theme for this school year is "Educating All in Changing Times" and I seek to send a strong message of equity and access to education even in this year of COVID–19. I look forward to hearing about the successful activities in each school that will ensure all students receive an education fit for purpose. I will endeavour as Minister to establish the framework and make provision for this to happen. Online schooling comes with its own set of challenges such as no access to devices, unreliable internet service, the absence of parental support at home during instructional time and the mirage of psycho social issues.
We have outlined at the ministry some policy directions for the year and while we have planned, we are cognisant of the fact that things may happen that may force us to make adjustments during this pandemic. Let me share with you some of the policy plans that should guide your planning at the school level and the community will also hear our plan for the upcoming year.
Advisory Board and Special Committees
The Education Act, 2004 grants permission for the Minister of Education to establish boards and special committees to help with guiding the work of the Ministry. This year an Education Advisory Board will be in place. Members of the Board will include present and past educators, representative from the business community, higher education, a parent and the religious community. This group will advise me as Minister on education matters and the growth and development of the education sector.
I will establish also a Council on Special education that will review the already existing Student Support Programme in the Ministry and provide guidance to further strengthen it. The Education Officer with responsibility for Special Educational will soon be in place. The officer in this role will play a significant part of this Council and its functioning.
The Technological and Vocational Education and Training Council will be revived this year as well. The main function will be to advise on policy relating to technological and vocational education and training; to prepare plans for technological and vocational education and training in accordance with national policies and economic needs; monitor and make recommendations to ensure that agreed plans for technological and vocational education and training are implemented; advise on the co-ordination of technological and vocational education and training at all levels of the educational system; and to recommend standards for technological and vocational education and training.
We have been utilising special committees for specific assignments within the Ministry such as developing proposals to guide various projects and this we will continue to do. One such committee that is dear to my heart that I have put in place is the Veteran Educators Taskforce. We held a very fruitful meeting earlier in the year and I expect to formalize the appointment of this taskforce shortly. Retired educators such as Belsadys Donovan, Cecily Malone, Elroy Turnbull, Dr Qunicy Lettsome and Kirlin Lettsome, Erma Vanterpool, Gracia Stevens, Caryl O'neal, Medita Wheatley, and Shirley Martin will serve as supporters and advocates my team and I in education policy development and planning. I have a great respect for this team as they were instrumental in helping to establish the firm educational foundation upon which we continue to build. Their students are the leaders of this Territory today. They still have much to offer and I want to utilise them.
In the coming weeks, we will formalise the School Management Committee of the Claudia Creque Educational Centre and establish Management Committees for other select public schools in the Territory.
Discipline
My mantra continues to be zero tolerance for indiscipline among students. We encourage all schools to approach discipline in a positive, student-centred manner. The overall aim of this approach is to foster disciplined students who have an internal sense of self-discipline and who are capable of self-management. Procedures which encourage appropriate behaviour are central to a positive, proactive approach to discipline. Positive reinforcement or acknowledgement of appropriate behaviour is a key component of this positive behavioural management approach. It has been shown that acknowledging positive behaviour is more effective in motivating students than punishment.
We have completed the review of the Student Code of Conduct and a new Discipline Policy which include positive and student centred forms of discipline as well as itemised online learning protocols and behaviour management for online learning. I express thanks to UNICEF for funding these projects. The new Student Code of Conduct 2020 and the Discipline Policy will be introduced this school year.
Last school year, a mid-year review of the Organisation of Eastern Caribbean States Education Sector Strategy 2012 – 2021 was conducted. It showed our strengths in the education system such as the great efforts we have made with ongoing professional development to improve teacher and administrator quality, growth and development in the areas of Early Childhood and Special Education and the use of technology in the classroom. However, it showed that more work has to be done to achieve the standards of 21st century excellence that are required. Quality education is essential and cannot be achieved without quality teachers and education administrators at every level. Thus, there will be a review of the Teacher Standards and updated guidelines will be established. Quality education in these changing times require a retooling of educators, making provision for all types of learners, facilitating the marginalized and special needs and building out the education system in such a way that we cater to all. These are all important as we move forward in our quest to develop the Territory as well as realise the UN 2030 Sustainable Development Goals.
Student Performance
All efforts will be made to continue to improve student learning outcomes, both locally and in the regional CXC examinations. The key to any good system is to be able to measure it by student performance, student readiness and to be able to bench mark it against other systems. This we do when students are able to show mastery of learning at the specified benchmarks and competence in the required skills. Key stage assessments will continue as they serve to measure the Grade level competencies of students at Grades 2, 4, 6. The data received when students' results are analysed is used to make projections going forward.
Curriculum
The VI Literacy Programme has completed its second year since its implementation in 2018. Students from Kindergarten to Grade 3 were tested in Advent and Lent terms to determine improvement in their literacy. In spite of the challenges faced in Trinity term due to COVID-19, some schools were able to assess their students' progress. Generally, the trend in all schools indicates that there was a steady improvement in student performance. Some schools exhibited outstanding results with students reading beyond their grade level. The VI Literacy Programme will expand in the 2020/2021 academic year to include Grade 4. The focus of the programme for this year will be Comprehension and developing Critical Literacy skills.
The approach to Mathematics Education, its content and delivery is under review. Our students continue to struggle with grasping the basic concepts of the subject and its application. This year the approach of teaching Mathematics through discovery will be encouraged. Practice, practice and more practice until there is evidence of understanding before moving on to the new concept.
As a part of my remit, I fully intend to ensure that Virgin Islands' culture, cultural heritage and history are taught consistently throughout our entire education system, from the primary, secondary and through to the tertiary levels. Our children must be thoroughly immersed in our heritage and culture.
This year, the Department of Culture will be working with the Ministry of Education to administer a series of questionnaires, surveys and conduct interviews designed to investigate and gain a true picture as to the extent to which the heritage and culture of the Virgin Islands is taught throughout our entire education system. It is always good to be scientific in our methods and assess the nature of a problem before implementing solutions.
Through this method, the content resources and content specific methodologies and pedagogy for the teaching of Virgin Islands heritage, culture and the arts throughout the education sector will be assessed. The data collected will be analysed in order to organise and develop any and all forms of support needed and, in some cases, introduce new concepts.
This year we will combine efforts with the BVI Tourist Board and introduce a collaborative Culture and Tourism month in November. The first week, 2nd – 6th November will be the annual culture week of activities in the schools. The culmination of the school's activities during that week will be an arts festival during which each school will make a presentation in one area of the arts and culture. We will also organize a "game show" style of competition event between the schools which will be based on Virgin Islands' heritage and culture.
Online education has brought some major adjustments to the pedagogical process as they were in the system. Collaboration in lesson planning and development has been across the board, an initiative for which we have been longing. Public and private school teachers worked together to formulate lessons, assessments, and activities by grade levels and by subjects at both primary and secondary levels. This has been beneficial and definitely in keeping with best practices for advancement in education at this time. I fully endorse the collaborative approach to lesson preparations that is taking place across the schools this school year. I encourage all teachers to become engaged in the process on your grade level as in the primary schools and by subject areas in the secondary schools.
Computers, laptops, Chrome books, digital textbooks, promethean boards in classrooms, and tablets will be a regular part of the teaching and learning process this year as students will be engaged in and out of the classroom with online learning. The Loan Programme that was started last year will continue and we are also going to offer this year a "Loan to Own" programme. This means that for those who wish to do so, the Ministry will allow partial payments until the full price is paid and then the device will be officially signed over to the student. The digital textbooks, Virgin Islands Digital Education (VIDE), at the junior secondary school will continue. Students can use this as their sole device as they have been prepared with the books as well as the online access needed for classes.
To facilitate online learning, there is an option now for teachers to come to the schools and use the internet infrastructure available which was upgraded last term. We have reengaged discussions with the telecommunication providers on ways in which we can address some of the internet challenges that parents expressed informally last term and formally through the recently concluded survey on the online learning experience.
Virtual education and remote learning will continue. As I stated earlier, we have to provide ongoing reports to Cabinet. In the event that Cabinet grants approval for adjustments to be made to allow students to return to the classroom, we will utilize a somewhat hybrid situation called blended learning. With the social distancing requirements, classroom spaces will not be able to accommodate students as in the past. Various forms of blended learning will be used at schools to accommodate students in a staggered manner.
Training for the effective use of the online platforms and Google suites will take place next week and throughout the year to improve performance and develop greater levels of competence for parents, teachers and students. We wish to see the integration of technology in education in a very real way. COVID-19 forced us to make this decision and we will continue to engage this 21st century approach to Education.
An Integrated Curriculum allows students to make connections among different subject areas and to their own lives. When students make these connections and understand why they need to know certain skills or pieces of knowledge, the learning process becomes positive for the students. An integrated curriculum connects different areas of study by emphasising related concepts across subject matters. There will be a concerted effort this year in moving towards integration of subject disciplines. This style of curriculum makes it easier for students to make connections and to engage in relevant activities as well as it facilitates online learning. Especially with the changes brought by COVID-19, it is important that we maximise the learning time and ensure students are learning key concepts.
Special Education
I have granted permission to the Virgin Islands School of Technical Studies to pilot a Vocational Trade grade at the institution where selected students will be the first to follow a course specifically geared toward helping students get employment-ready skills and knowledge for particular occupations. This proposed "Trade stream" will cater to students not academically inclined but are rather good with their hands. It will allow for a more skill oriented curriculum along with an apprenticeship programme which would see students attending school for three days per week and attached to an industry for two days. By graduation out of secondary school, the students in this programme would be work ready and able to receive certification in their chosen field as well as their secondary certification from the Virgin Islands system.
Similarly, the Alternative Secondary Education Programme will introduce an Apprenticeship Programme. It will be a supervised work–based programme with a duration of at least one calendar year for each cohort, after which the apprentice would have a final assessment and be certified.
Infrastructural Development
Since the impact of the 2017 hurricanes on various educational facilities, efforts have been ongoing to restore buildings to a useful state to facilitate a safe learning environment for teachers and students. For the upcoming school year, renovations will continue, architectural drawings will be finalized and we hope to break ground on a few buildings.
At the Bregado Flax Educational Centre Secondary Division, work started on 26th May, 2020 with general demolition of Buildings 2 and 3, Administration and Restroom Blocks. Removal of damaged roof structure was completed and preparation for steel reinforcement of metal roof composite began on Building 3. Construction of the external stairs, ramp for persons with disabilities and framing of windows and doors have commenced.
Procurement of major items such as metal roof composite decking, windows and doors, flooring was completed. However, they are facing major delays with shipping to the Territory. The project was halted due to limited ferry service to and from Virgin Gorda and the recent curfew order. This project was originally scheduled to be completed by end of December, but a new completion date will be established taking into consideration the aforementioned challenges.
During a recent community meeting on Jost Van Dyke, the relevant information was gathered for the purpose of making a comparative analysis on the location of the new Jost Van Dyke Primary School. The finalisation of the funding arrangements to contract an architect and engineer is at an advanced stage, so we are moving another step closer to advancing this project.
The architect for the new Eslyn Henly Richez Learning Centre was contracted and the preliminary design was submitted. Having met with various stakeholders and cognisant of the needs of the students, the architect has now been commissioned to continue with the plans for the facility. The new school will be located directly behind of the Althea Scatliffe Primary School on the compound of the Magistrate's Court, following Cabinet's decision for the land swap to take place.
A master plan for the Elmore Stoutt High School has been talked about for many years. I am pleased to note that through the kind assistance of the Recovery and Development Agency (RDA), we are now benefiting from the kind assistance of Construction for Change, a nonprofit construction company out of the United States, who will help us with that Master plan.
Summer Institute
As you continue to participate in the Summer Institute training sessions throughout this week, please make use of the opportunities afforded you to develop yourselves professionally and participate fully.
The Advent Term for public schools will begin on 14th September and will end on 11th December 2020. Classes for students will begin on 21st September 2020. Students are not expected to report to the school for classes unless further advised. Classes will be conducted online for the most part via remote methods and when deemed safe, select groupings will have face to face sessions. Teachers are expected to take responsibility in facilitating learning using a variety of experiences all from a remote setting. School buildings are to remain open and resources must be fully available for use by teachers as required in the delivery of the curriculum and the teaching and learning process.
There will be two categories of students: those who are available in the online environment and those who are not available online. Teachers may be faced with having the two categories of students in their classroom. For those available for online learning, it is expected that teachers will utilise the curriculum guides, lessons and assessments that will be developed by each grade level. There should be at least three live sessions per day for each student through the designated online platform. Other sessions for the online student should be in the form of seat work using textbooks and uploaded material on Google Classroom.
For those students who will not be available online, and this could be because they do not have devices or sufficient internet connectivity, teachers are then expected to prepare printed packets for them to be able to access education. Packages should be available at the schools and parents should collect them from their child's school. The completed work should be returned to the teacher, feedback received, and the parents should collect a new packet every Friday. That means work for the week should be dropped off on Friday, feedback for the student returned and a new packet is collected the same day.
Teachers are encouraged to come to school for work and this would have them using the available resources there for the most effective planning and implementation of lessons. The resources for printing such as photocopying machines for the preparation of packages can also be used. Work from home arrangements will be permitted where the teacher is better accommodated given their individual situations. This should be approved by the principals once the delivery of the curriculum is not compromised.
Conclusion
I wish to thank all Education Officers, principals, teachers, other education professionals as well as other staff for your hard work. Thank you for continuing to ensure that our students are set for success so that they can lead productive lives and make their contributions to the development of our Territory.
I wish you a successful 2020/2021 academic school year and may God continue to bless you and keep you. May His light continue to shine on you and this Territory.
Quality education always helps to ensure security, welfare and prosperity of a nation. Therefore, let us all keep education as the first priority of this developing Territory.