Ministry of Transportation Works and Utilities
Public Works Department
Release Date:
Tuesday, 21 June 2016 - 5:15pm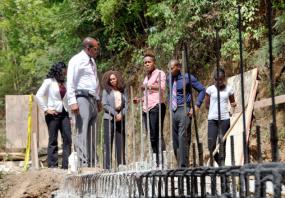 Several infrastructural projects are under construction simultaneously throughout the Territory to enhance the road network.
The Ministry of Communications and Works is executing road works involving drainage and road resurfacing in Spring Ghut, Butu Mountain and Cooten Bay. Projects under the Caribbean Development Bank (CDB) Loan are also said to be progressing. Long Trench is now 100 percent complete per contract and Huntum's Ghut is complete per contract with some additional work being carried out.
Minister for Communications and Works, Honourable Mark Vanterpool, went on a tour of the projects and is pleased with the structures being built. The Minister also congratulated the team for the advancement of work on the CDB projects.
Minister Vanterpool said, "This is what I consider as very good work. I know this area (Huntum's Ghut) and I know what it was before and the results that I have seen are excellent."
The projects were contracted to Quality Construction Limited last October and are on-schedule and within budget. Contracts for Windy Hill and Greenland have been signed to G-Unit Construction Limited for $367,367.17 and Autland Heavy Equipment Co. Limited for $949,875.60.
Minister Vanterpool and other government officials also visited the road work site in Sea Cows Bay last week, to ascertain the next steps in improving the drainage, road and sidewalks. The Minister said some changes will be made on works in the area, and a full update on road works will be brought forth in the next sitting of the House of Assembly.
Meanwhile, road works on the National Sewerage Programme continue in the East End and Road Town area. In Road Town, the installation of the gravity main resumed with sheet-piling works on Boo Bay Drive, in front of the St. William's Catholic Church, and subsequently on Nibbs Street, in front of First Bank. A section of Nibbs Street will be closed to through traffic as well as a section of Boo Bay Drive for the duration of the project.
Work for gravity main is underway at the intersection of Greenland / Little Dix Roads and the bridge along the Blackburn Highway near the Long Swamp Police Station in East End.
To view the exact location of these projects and detours, please visit bvi.gov.vg/roadworks. Motorists are reminded to drive with extreme caution in these areas and to follow all traffic signs and personnel in these areas.
The Ministry of Communications and Works is committed to providing a sound and reliable infrastructure for residents of and visitors to the Virgin Islands.
Author