Office of the Deputy Governor
Department of Human Resources
Release Date:
Thursday, 26 September 2019 - 4:13pm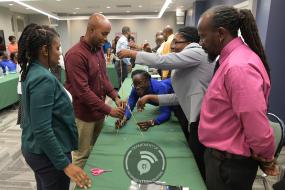 Senior Public Officers are being developed to better utilise their skills and potential abilities in innovative ways that align to the Public Service's needs and strategic direction.
The Leadership Development Forum and Programme is an initiative from the Department of Human Resources in collaboration with Governance Partnership International (GPI), a cross-cutting unit, providing peer-to-peer support to partner governments overseas, which helps deliver better public services to its citizens.
The Leadership Programme spans over a five month period starting from Monday, September 23 to Wednesday, September 25 and subsequent dates in November 2019 and January 2020. The programme was designed using input from the 2018 Engagement Survey which focused on understanding what factors contribute to employee motivation, well-being and organisational success.
Acting Governor, Mr. David D. Archer, Jr., stated that he is pleased to see such initiative materialise for the benefit and professional growth of all participants. Such training will also equip public officers to occupy leadership roles in the Public Service.
He said, "The participants in this cohort are recently appointed leaders, deputies and managers in strategic roles who will be potential successors for other key leadership roles in the Service".
Meanwhile Acting Permanent Secretary in the Deputy Governor's Office, Mrs. Sharleen DaBreo-Lettsome, MBE encouraged the first cohort of officers to find ways to bring staff together, and show them appreciation and advise them on becoming "legendary leaders".
She said, "Show your staff that you care, and in return they will show you the respect and support that you need to be successful. Alone, we can do so little, together we can do so much. Success is the result of people pulling together."
Director of the Human Resources Department, Mrs. Michelle Donovan Stevens, stated that teaching tools and resources such as the Leadership Forum are important to offer participants various methods by which they can enhance the way they lead, manage and engage persons, which will further support the transformation of the Public Service and the wider strategic direction of the Government.
Mrs. Donovan-Stevens said, "The Leadership Forum and Development Programme is about building the capabilities of leaders to be purposeful, model the values and ethos of the Service and inspire others to excellence. It is important that participating officers receive ongoing support in their roles and be provided professional room and trust to put their learning into practice."
To ensure the continuity of this programme, Governance Partnership International will deliver "train the trainer" sessions to build facilitator capabilities, which will include statutory and private sector professionals to further enrich and diversify the experience for the next cohort.
The Department of Human Resources exists to advise and administer human capital management in the Service to enhance the quality of Officers' work experience, while achieving the strategic organisational goals of the Public Service.
The Human Resources Department is committed to its mission, which is to provide effective human resources leadership and partnership to drive Public Service Excellence.
Author