Ministry of Natural Resources and Labour
Department of Labour and Workforce Development
Release Date:
Monday, 12 July 2021 - 6:00pm
Remarks by Premier and Minister of Finance, Honourable Andrew A. Fahie
Online Work Permit Systems Launch
July 12, 2021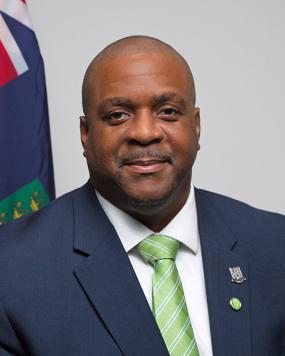 Good day and GOD's Blessings to everyone. I pray that GOD continues to keep us safe as we continue to adhere to the health and safety protocols.
Today is a good example of social distancing as we are here launching the Work Permit System virtually.
What we doing here today is timely. It comes at a time when we must do business differently living and working in the New Regular with COVID-19.
I want to thank you all for your hard work in bringing this system to fruition. I thank Minister for Natural Resources, Labour and Immigration, Honourable Vincent Wheatley and his team at the Ministry, and Labour and Immigration departments for pushing this forward. I thank the Deputy Governor Mr. David Archer for supporting as well. I also want to thank Dr. Frater for his unwavering commitment to see this project to fruition.
Having seen it in action, we can all agree that it is an important development in the transformation of Government services.
This is the first step in being able to offer more e-Government services which will ensure continuous and easy to access services for the people of the Virgin Islands and those that want to work and invest here.
As we face stay at home orders, due to the COVID-19 situation, this development towards an increase in e-Government services has come at a crucial time.
Through investment in the technological infrastructure and the required legislation to enable it, public services in many areas, NOT just work permits, are able to continue to work remotely, efficiently serving the public's need whilst bringing down the risks caused by the pandemic. This is all caused by the proactive measures put in place by your Government months ago.
For a long time I have been an advocate of increasing the use of e-Government services and moving processes online where possible.
I am pleased to say at this time that the e-Government suite of legislation has now been sent to the Gazette Office to bring into force the Data Protection Act, Electronic Filing Act, Electronic Transaction Act, and the Electronic Transfer of Funds Act. Also, the Consumer Protection legislation is also being gazetted to bring it into force as we speak.
So I really want to thank the members of the House of Assembly especially members of my Government in this respect. I think this is important for three very clear reasons, beyond what I have already outlined.
Firstly, it means that there is an electronic record of information, interactions and transactions. This helps us with ensuring accountability, transparency and governance. We have put in place the right legislation to ensure this information is kept safe and secure, but also so that is able to be shared appropriately between Government offices.
Secondly, this helps us to automate processes, cut inefficiencies and better serve the public, granting access to the services they need faster and more professionally.
Thirdly, it helps us retain our international standing as an attractive place to do business in and with. Many countries already use online portals like this, people now expect the ease of conducting processes online and it will help us to continue our growth as an important international business and finance centre.
The success of the Online Work Permit System paves the way for more of our services moving online and the financial, social and legal benefits that come with it. This is indeed innovative; this is innovation and this is being proactive by your Government and all the Public Officers and the Deputy Governor who have helped this to come to fruition including the members of the House of Assembly overall who passed the suite of Legislation. This is now when we get to see the fruits of our Labour.
Once again, I am very pleased with this because we have promised the people this for so long. It is encouraging to know that persons can stay on Jost Van Dyke, Anegada, Virgin Gorda, anywhere in the British Virgin Islands including Tortola and also anywhere in the world and stay at your businesses and now do business with Government, specifically today with the Work Permit Online System, but with all the other online eGovernment systems that will be put in place. You will be hearing more shortly.
So once again, this is a good day, I thank everyone and look forward to hearing about its success as customers use it.
And may GOD forever bless these beautiful Virgin Islands.