Ministry of Communications and Works
Release Date:
Wednesday, 20 July 2022 - 2:56pm
Remarks by Deputy Premier and Minister for Communications and Works
Honourable Kye M. Rymer
Commissioning of the Cane Garden Bay, Waste Water Treatment Plant
July, 19th 2022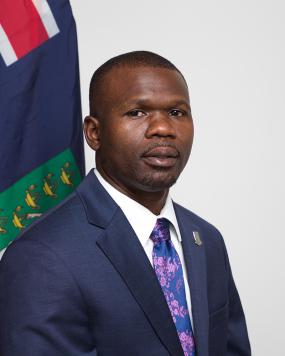 It gives me great pleasure this morning to be here today in this Cane Garden Bay community for the official commissioning of the new State-Of-The-Art Waste Water Treatment Plant.
Cane Garden Bay is a hub for regional and international visitors who seek to experience authentic pristine beauty, culture and a cuisine that the BVI has to offer. We are all aware of the challenges that we have faced with sewerage in this area and it was critical that we sought to remedy this problem.
In this light, the Ministry of Communications and Works in 2019 embarked on a two phase tender for the design and building of a new Waste Water Treatment Plant to replace the existing plant that was operating, but not functioning at optimal capacity, to service the need of this community.
The Phase 2, was also a tender for the replacement and installation of new gravity and pumping lines, lift stations and backup generator.
Sewerage collection management and treatment is an underlining problem, not just here in Cane Garden Bay, but all throughout our islands. Dilapidated infrastructure, aging pipelines, a growing population, that add stress to the systems, are all key reasons why it is important and imperative to modernise our sewerage network.
When we got elected in 2019, on Tortola there were three sewerage plants and none of them were working. Well Cane Garden Bay was working, but not to its optimal level. The general public may not be aware of all the works that it entails, but it requires countless man hours to develop, design, plan for tenders, plan for the contractors, and finally the execution of these works.
I am pleased that by the end of this month, we will also be signing a contract for the repair of the Burt Point Waste Water Treatment Plant to remedy the treatment of sewerage in the Road Town area. The public would have realised that we have started and progressing quite well with the works in the Road Town area to upgrade our sewerage network. We are also in the process of evaluating bids received for the Paraquita Bay Waste Water Treatment Plant to get it repaired and commissioned also.
Presently, we are undertaking works in the East End/Long Look area to remedy their ongoing sewerage woes. Further, we have issued and will be issuing several tenders for works in the East End – Long Look area to get that problem resolved once and for all.
This government and my team at the Ministry have placed a great deal of emphasis on the National Sewerage Network and tremendous ground work has gone into reaching to this juncture where we are today.
Again I am pleased to be here for the commissioning of the Waste Water Treatment Plant here in Cane Garden Bay. I cannot though, stand as Minister and not recognise the work of the previous Premier, Andrew Fahie, who made the funds available for this project.
Yes, we can plan, but without the funds we cannot execute and I thank the Minister of Finance and the ministry for the funds required, although we may not always get all that we need.
Today, we stand here and see the value on the ground in terms of what was here before and what is being delivered today. The total cost of this project is $1,799,515.15. The project scope includes the design and build of a 400 cubic meter per day maximum capacity waste water treatment plant, which exponentially exceeds the maximum capacity of the old waste water treatment plant. What that means simply is that we can take more effluent into our system and treat it to international standards. Therefore, as the Cane Garden Bay community grows commercial and residentially, our system will be able to handle any additional sewerage required.
In addition to the plant itself and within the total cost mentioned, we have completed further works within the compound such as:
Installation of post equalization tanks
Replace the effluent pumps and installed a new wet well
Constructed a boundary wall, road and walkways
Repaired and upgraded the control and electrical system building
Installed new lighting
Procured and commissioned a new generator
Constructed a culvert crossing to aid with drainage
Installed new fencing
Upgraded the transformer
We are very pleased with the outcome of this project and the output that we have seen here today is something that we can all be proud of. I want to extend my congratulations to Toshiba Water Solutions America Inc. who was the successful contractor in the tender process. I want to thank the team, and thank them for their excellence in producing this state of the art Waste Water Treatment Plant. I also want to thank them for their patience as well; we started this tender process in 2019 and concluded in 2020 and then the contract was awarded.
As everyone knows, Covid-19 came as a worldwide epidemic in 2020 with multiple lockdowns and shutdowns. We were finally able to conclude the actual contract in 2020, but we were delayed again in 2021 for another six to eight months in putting everything in order, which included shipping of material, bringing in personnel and the logistics that came with functioning in the Covid-19 environment.
In actuality, the contractor – Toshiba Water Solutions America Inc., started on the ground in August 2021 and completed the works in May 2022. I am happy that we were able to work with them and come to convenient terms as it related to all the logistics and financial implications that all the delays caused; and I am pleased that we were able to work out a financially agreeable arrangement.
Mr. Sanjay Agrawal and your team including Mr. Raj Kushwaha we are all grateful for your willingness to work and execute this project successfully for the people of Cane Garden Bay and the overall British Virgin Islands.
I also want make mention, of our local sub-contractor, Mr. Rufred Forbes and son and his team in providing local assistance to Toshiba Water Solutions America Inc. in conducting the civil works. We are always happy when international companies can partner with the local contractors in undertaking substantial developments in our Territory.
Special thanks is also expressed to the project team in the Ministry of Communications and Works led by Mr. Duane Fraites and to the Project Manager our Chairperson today Mr. Bernard Grant, and supported by Mr. Dillon Robin and Mr. Elton Smith, for undertaking the task of leading in the execution of the project. I also want to acknowledge and give special kudos to Mr. Von Alphonso and the sewerage team in the Water and Sewerage Department for their support as well.
I must also recognise my Permanent Secretary – Mr. Ronald Smith-Berkeley and the rest of the Ministry of Communications and Works personnel for supporting the project team in achieving this accomplishment as various persons would have had different tasks to perform.
Finally, I want acknowledge the representative for the area, Honourable Melvin 'Mitch' Turnbull, because I think it was after three months after being elected in 2019, he posed the question to me in the House of Assembly (HOA), as to what is happening with the sewerage works within the district. He also had a follow up question, and I remember this keenly, because it was on my daughter's birthday, on the 22nd of July, 2019, still asking me about the sewerage works here in the district, as if it would have been completed in one month.
I am happy and I recognise his patience and understanding, because he is a representative of his people and I acknowledge his passion, and I want the residence of the district to know, that they have a representative who actually cares about their needs.
Again I will like to acknowledge the representative who is now sitting behind me, and sitting with me, alongside me as we carry out the task of these Beautiful Virgin Islands. I want the community of Cane Garden Bay to know that we have achieved a great accomplishment in having this official commissioning of the Waste Water Treatment Plant, but we are gearing up for the next project, which will be the replacement of the gravity and pumping lines, which will serve as the final phase of the Cane Garden Bay National Sewerage Network Improvement project.
I thank you for your continued support and look forward to working together to improve our community and our Beautiful Virgin Islands.
God's blessings to all of us!