Ministry of Education, Culture, Youth Affairs and Sports
Release Date:
Monday, 1 November 2021 - 2:46pm
REMARKS BY DEPUTY PREMIER AND MINISTER FOR EDUCATION, CULTURE, YOUTH AFFAIRS, FISHERIES AND AGRICULTURE
DR. THE HONOURABLE NATALIO D. WHEATLEY
ADDRESSES SICKOUT OF TEACHERS IN
PRIMARY AND SECONDARY SCHOOL
SUNDAY, OCTOBER 31, 2021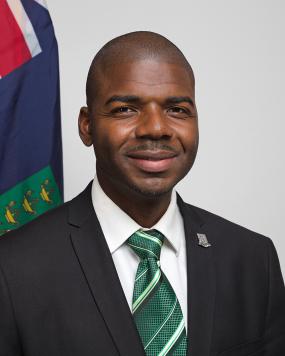 Greetings and God's blessings to the people of the Virgin Islands.
I come to you on this occasion, to update you on the events which took place within our education system between Wednesday 27th October and Friday 29th of October.
On Wednesday, I received reports that a large percentage of the teachers stationed at the Elmore Stoutt Junior High School did not report for duty. As a result, school was canceled for the day.
On the following day, I received reports that a large percentage of teachers at the Elmore Stoutt Senior High School did not sign in for online classes, which are being conducted because of mould cleaning on the old Clarence Thomas building at Pasea Estate.
Finally, on Friday, I received reports that there were a large percentage of teachers at 4 primary schools that did not report to duty, namely, the Althea Scatliffe, Willard Wheatley, Francis Lettsome, and Joyce Samuel Primary Schools.
It is important to note that these events were not planned by the Teacher's Union, and the president of the Union expressed no knowledge of these events prior to them occurring.
It is also important to note that the Ministry has been in consistent dialogue with the Teachers Union on a number of grievances that teachers wished to see addressed.
On August 23rd, I, along with the Honourable Premier and several other elected members, and the Chief Education Officer met with over 250 teachers at a BVI Teachers' Union Meeting. During that meeting a list of concerns was shared. Subsequently, a letter was submitted to me on behalf of the Union, listing 5 requests, all of which we agreed to fulfill.
The first request was the payment of a $300 stipend. In regard to the stipend, Union President, Tammy Henry, wrote: "This payment is both symbolic and practical. It will both serve as an acknowledgement of the extraordinary effort of our teachers during this ongoing pandemic, and it will repay a small portion of the monies that teachers spent to ready themselves to teach during the past school year."
In agreement with this request for a "symbolic and practical" payment from the Teachers Union, we budgeted the funds in the adjustment budget passed in September, and the Ministry processed the vouchers and 75% of cheques were printed this past week, and are now ready for distribution.
The second request of the Teachers Union was for the payment of two past due increments, and the third request was for active participation in the salary review process. I am pleased to report that the 2017 increments were passed in the recent adjustment budget and are presently being processed by Human Resources. Also, Director of HR, Michelle Donovan-Stevens, in a statement released on September 9th 2021, confirmed the full involvement of the Teaching Union, among other stakeholders, in this cabinet commissioned salary review, which is the first review in 19 years.
The fourth request of the Teachers' Union has been the most challenging, which concerns the maintenance of school facilities, including the remediation of mould. Our school infrastructure is very old and buildings have been poorly maintained over a number of years. The poor condition of the schools has been exacerbated by the flood and hurricanes of 2017, which compromised the integrity of many of our schools. Immediately following these storms, very little was done to properly remediate these structures beyond some patchwork done to get the schools open. Since joining the ministry, we have been seeking to address these concerns, including the refurbishment of the L. Adorothy Turnbull Building, the Bregado Flax Educational Centre, and major repairs on Leonora Delville, Alexandrina Maduro, Ivan Dawson, Ebenezer Thomas, and the Virgin Islands School of Technical Studies.
This year, we have spent close to one million dollars on school maintenance and mould remediation. Last week, I gave instructions for the Clarence Thomas Building at the Pasea campus to be cleaned, which will cost more than $50,000. Leonora Delville, Ivan Dawson, Joyce Samuel, Francis Lettsome, Alexindrina Maduro, Enis Adams and Jost Van Dyke are among the schools remediated for mould this school year, and we have scheduled more cleanings at other schools where we have identified problems.
Despite our efforts, there are major works which still need to be done. These works require money, and we will be advocating strongly in the budget meetings for increased allocations to address these concerns.
The final request of the Teachers' Union was for regular updates on the progress from moving from the Pasea Campus back to the Lower Estate Campus of Elmore Stoutt High School.
I am happy to report that money was allocated in the recently passed adjustment budget, and the money has been transferred to the Recovery Development Agency, which is overseeing the project. Geotechnical investigations, demolition of the existing site, and designs will all be completed in November, and construction should be begin in January if all goes well. We do not intend to begin another school year at the Pasea campus because of major concerns about the suitability of that structure for our teachers and students.
While we have made some progress on these 5 requests of the Teachers' Union, we are aware that there are a multiplicity of other concerns that affect our teachers, which, based on my initial investigations, led to the sickout last week. On Thursday night, I engaged over one hundred teachers in dialogue to ascertain the specific challenges that frustrated teachers to the point of making this public statement. These included concerns about salary, the condition of the workplace, management, and human resources related concerns among others.
Let me affirm, beyond a shadow of a doubt, that our teachers have undisputably valid concerns that must be addressed. Therefore, I would never feel offended when anyone says they stand with teachers. I, too, stand with teachers. We all should stand with teachers.
Teachers I have heard your cry, and I acknowledge that you are right. It always seems that money can be found for emergencies in other areas, but I declare to you teachers, I recognize we are in an emergency situation, and we need the resources to fix it. So standing with teachers is not enough. We must put our money where our mouth is. We must back up our talk with action. I challenge all elected members in the House of Assembly to support the allocation of 2 million dollars in the upcoming budget for a complete overhaul of our schools. Let's make sure that every single school has the money that is required to provide a safe and healthy learning environment for our children.
In regard for my support and advocacy for our teachers, let me correct some fake news from the 284 media organization. It was reported in a recent article that the teachers would be docked a portion of their salary for not showing up to work. This is a blatant falsehood, and I question the motives for seeking to mislead the public.
According to Section 92 and 93 of the Virgin Islands Constitution Order, the Governor, acting in accordance with the advice of the Teaching Service Commission, is responsible for all matters of discipline for teachers. I have instructed my Permanent Secretary to provide a full report of the events of last week to the Teaching Service Commission, and I, specifically, asked that the Ministry recommend that no teacher is penalized for the actions related to the sickout between Wednesday 27th October and Friday 29th October.
However, I am requesting that the teachers return to the table of dialogue, so we can work together on rectifying these matters. We have a legal and moral responsibility to educate our children and prepare them for a bright and prosperous future. I also ask that teachers engage through the Teachers' Union, which is the legal entity constituted to negotiate with the government on such matters. Working with each other will always achieve more than fighting with each other. I am a willing and committed partner in this fight for a better education system.
I must also encourage the public to support and participate in this democratic process in a constructive and respectful way. I was very disappointed with the hateful and threatening words of a small minority of our community. I was particularly disgusted that one person of European descent, called for my lynching at the Sunday Morning Well, a symbol of our freedom from oppression.
As a community, let's stand against the forces of hate who only seek to divide us. Yes, we are going through a tough time as a people. The only way we will get through these challenges is by sticking together. Unity is the key to conquering hurricanes, pandemics, and the other challenges we are confronted with. I have faith that we can do it. God's blessings upon our teachers, students, and our education system, and God bless the Virgin Islands as we overcome these obstacles together.