Office of the Deputy Governor
Department of Human Resources
Release Date:
Monday, 6 November 2017 - 4:49pm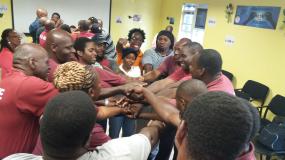 Officers from the Virgin Islands Fire and Rescue Services have recommended the Project Uplift group support sessions offered exclusively for public officers.
The support sessions are coordinated by the Employee Relations Unit of the Department of Human Resources, and provide an interactive support movement for public officers to aid in post Hurricanes Irma and Maria recovery.
The group will launch an outreach programme this week by hosting a registration drive for the group support sessions and educating officers on their individual counselling and referral services.
The group support sessions utilises a spiritual and therapeutic approach, to assist participants in the healing process. It also relies on interactive exchange and breakout sessions. Participants are led on a journey which positively examines trauma, reactions to trauma and its major symptoms.
Fire Officer 53 Stephen Chinnery, shared that the session was riveting and very much needed. "It's a beautiful thing. Everybody needs this additional help. Persons are suffering with a lot of things they won't be able to explain. I think a lot more of these sessions need to be implemented and this was a positive start."
Fire Officer 31 Nathan McClean said, "The session was uplifting and allowed everyone to express themselves. I think everybody came out with a more uplifted outlook on life post Hurricane Irma and what happened after the storm.
The first responder added, "Even though there is a lot of damage and a lot of loss, we still have life; we still can do, we still can go on; we still will rebuild. BVI Strong!"
Scores of public officers attended the initial group support sessions, over a three-week period, and morning and afternoon sessions will continue. Public officers may also access additional confidential support by dialing the helpline number, 468-9889.
Deputy Governor, Mrs. Rosalie Adams in her series of meetings with public officers in September and in a recovery update to the Territory as Acting Governor last week expressed the importance of counseling and urged each and every public officer to take advantage of the confidential group support.
Photographs attached:
Fire officers are pictured participating in an interactive group activity, entitled the 'Human Knot' which demonstrates the importance of team work Photo Credit: GIS/Colene A. Penn
EAP Counselor and Project Uplift Coordinator Mrs. Noreen Callwood-Lewis leads an overview session with attendees. Photo Credit: GIS/Colene A. Penn
Author