Premier's Office
Release Date:
Tuesday, 1 December 2015 - 2:45pm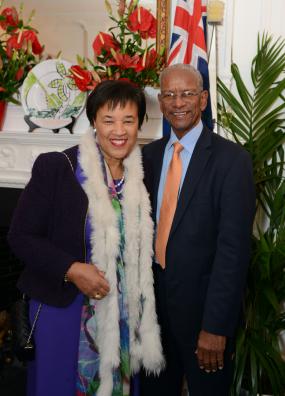 Premier and Minister of Finance Dr. the Honourable D. Orlando Smith OBE has congratulated Dominican born Commonwealth Secretary General Designate Patricia Scotland, Baroness Scotland of Asthal on her recent appointment to the post of Commonwealth Secretary General.
Premier Smith, during his annual Premier's Reception at BVI House in London on November 30, praised Baroness Scotland for her support of the Overseas Territories (OT) over the years.
Premier Smith said, "Baroness Scotland will make an excellent Secretary General who will serve the Commonwealth well. There is no doubt in my mind that she will continue being a true friend of the British Virgin Islands."
The British Virgin Islands maintains a warm relationship with Baroness Scotland who is a member of the BVI's All Party Parliamentary Group. In her various capacities over the years, Baroness Scotland has given advice to the BVI on strengthening the Territory's relations with the UK.
The former United Kingdom Attorney General and OT Minister thanked the Premier for his warm congratulations and said the Overseas Territories are an important part of the Commonwealth and that the 53 nations of the Commonwealth and their diversity holds great potential.
Baroness Scotland's appointment to the post of Secretary General makes her the sixth Commonwealth Secretary General and first woman to be appointed. She will take up her new post on April 1, 2016.
The Premier's reception is an annual event that takes place during the Premier's official visit to the UK for meetings of the Joint Ministerial Council (JMC) between UK and OT Ministers. This year's reception attracted over 100 guests that included stakeholders from the UK Government, private sector and diplomatic community.
Premier Smith is currently in London attending the JMC 2015. He is joined by Acting Permanent Secretary Mr. Brodrick Penn, BVI London Office Director, Mr. Benito Wheatley and BVI London Office Acting Political Officer Ms. Jehree Clarke.
Author