Office of the Deputy Governor
Release Date:
Friday, 26 October 2018 - 5:05pm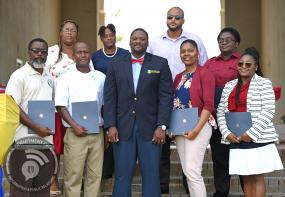 A policy is now in place to protect the health, safety and welfare of the Territory's Public Officers in the workplace.
The recent Cabinet approved Health and Safety Policy and Procedure Manual was officially launched earlier this month and outlines the Government's commitment to ensuring the protection of its officers, clients, contractors, suppliers, visitors, neighbours and the public from hazards and risks associated with its operations; and to the provision of adequate workplace facilities.
Health and Safety Coordinator in the Department of Human Resources, Mrs. Dawn Leonard stated that the policy's implementation has already begun and it is envisioned that it will be fully implemented over a two year period.
Mrs. Leonard said the primary goal of the policy is to protect officers from injuries arising on the job. She also hopes that the Public Service will emerge as a leader in the promotion of healthy, safe and congenial working environments in the Territory and eventually the region.
She added that this Government is now compliant with Section 138 (1) a. which speaks to a workplace having a policy.
The policy compliments the information outlined in the Virgin Islands Labour Code, 2010 as it relates to work place safety and can be used as a guide for other organisations in the Territory.
The policy will be enforced in part by a team of Public Officers from various ministries and departments who make up a committee called the Joint Workplace Health and Safety Oversight Committee. Its members were officially appointed by the Deputy Governor during the Opening Ceremony for Public Service Week. The committee's responsibilities are to conduct, where necessary, accident investigation, and provide expert advice on health and safety matters to the Deputy Governor and Director of Human Resources.
The committee members are: Gregory Adams, Shaniah Armstrong, Janisha Sergeant, Carishma Hicks, Jameal Geroges, Mc Gregor Williams, Adrun Benjamin, Aldith Penn and Kathleen Hodge.
The Policy received some promotion through the Last Man Standing Challenge, an event held in collaboration with the Public Service Week Steering Committee. This well received event tested the fitness and endurance levels of public officers during Public Service Week.
Persons can review the Health and Safety policy at: http://www.bvi.gov.vg/sites/default/files/resources/workplace_health_and_safety_policy.pdf
Attached
Deputy Governor Mr. David D. Archer Jr., Health and Safety Coordinator Mrs. Dawn Leonard and the newly installed members of the Joint Workplace Health and Safety Oversight Committee. (Photo credit: Ronnielle Frazer\GIS)
Health and Safety Policy and Procedure Manual.
Author