Ministry of Education, Culture, Youth Affairs, Fisheries and Agriculture
Release Date:
Tuesday, 15 November 2016 - 1:58pm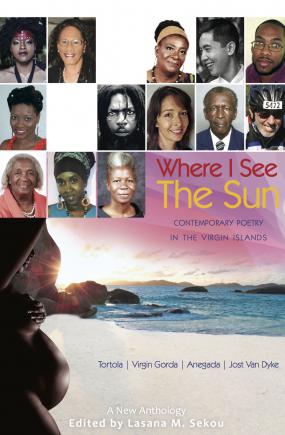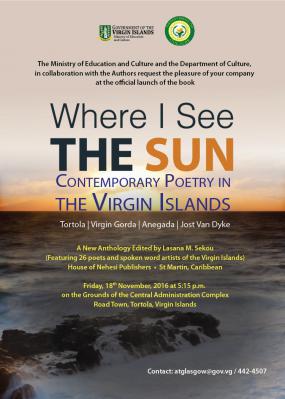 The latest poetry anthology, 'Where I See the Sun: Contemporary Poetry in the Virgin Islands', will be launched this Friday, November 18.
The anthology, published by House of Nehesi Publishers out of St. Martin, will be launched at the Central Administration Complex at 5:15 p.m.
Director of Culture, Mrs. Luce Hodge-Smith said, "Again, the Virgin Islands literary tradition will be highlighted with the release of this new poetry anthology. This is especially timely considering our Culture and Heritage Week activities are also highlighting literacy."
Mrs. Hodge-Smith added, "The Department of Culture is particularly fond of the inclusion of the late Anegadian poet Osario Norman. This is a true example of preserving our heritage, while honouring the legacy of a great Virgin Islander."
The anthology comprises poetry from 26 poets, including Eileene L. Parsons, Patricia Turnbull, Verna Penn Moll, Natalio Wheatley (Sowande Uhuru), Richard Georges, Quincy Lettsome, Traci O'Dea, Joe O'Neill, Adell Semper, Giovanni Herbert, Kamaal Lettsome, Jennie Wheatley, Beverly Donovan, Nia Douglas, Leslie Cramer, Bobbi Fawcett, Tracy A. Christopher, Daiikiru Maximillion (Errol Percival), Lavanta 'Artful' Thompson, Brandon Tang, Diana Stewart- Walker, Juana France, Jaedia Smith, Kimberly M. Cordes, April Glasgow and Osario Norman.
All are invited to attend the book launch event. For more information, persons should contact the Department of Culture at 468-4373.
The Ministry of Education and Culture is committed to creating a "Culture of Excellence".
Cover (Credit: House of Nehesi Publishers)
E-vite (Design Credit: GIS/ Alvin Bertie)
Author