Office of the Governor
Release Date:
Thursday, 10 March 2016 - 3:45pm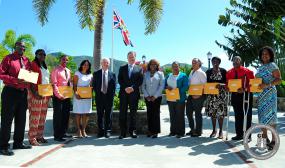 Nine persons were registered today as British citizens after having been previously naturalised as British Overseas Territories citizens.
The new citizens accepted their certificates, and recited the Oath of Allegiance to Her Majesty the Queen and the Pledge of Loyalty to the United Kingdom (UK), at a ceremony held at Government House.
His Excellency the Governor, Mr. John S. Duncan, OBE, presided over the ceremony and congratulated the new citizens who are now eligible to apply for a British passport.
Governor Duncan said, "By reaching and obtaining British citizenship you have exercised the right you enjoy as British Overseas Territory Citizens under the 2002 legislation. Though a right, it is nonetheless an important decision you have taken to seek British citizenship by registration, and it is proper that the fulfilment of that process should be marked in a formal way."
The Governor said that in addition to the benefits associated with British citizenship, there were also responsibilities and a new nationality is a matter of great significance for any individual. He said British law now requires that those who acquire British nationality in this way must not only demonstrate a commitment to the United Kingdom, but also knowledge of its history, institutions and language.
His Excellency added, "The new freedoms you will now enjoy also come with new responsibilities, moral responsibilities rather than legal ones: to uphold our shared values, courtesy, a respect and concern for others less fortunate than ourselves."
The Governor spoke of the Territory's connection to the United Kingdom stating that as an Overseas Territory and part of the Realm of Her Majesty, the Virgin Islands has special links with Great Britain.
He said, "Our economic success in the global economy is founded upon the fact that we share a common legal system. But, our connections go much further than that through our history, our people and our culture. Although the United States is only a short ferry ride away, the people on these Islands have chosen to remain British. Today you have reaffirmed your desire to achieve that collective ambition."
His Excellency the Governor charged the new citizens to exercise their new freedoms for travel and employment, and to remember that they are ambassadors for their home base, the British Virgin Islands, where they have put down roots, and where their contribution to the development of this community has already been substantial.
The brief ceremony was chaired by the Registrar General, Mrs. Stephanie Benn. Mrs. Benn encouraged recipients to treat their certificates with special care as they, among other documents will be needed to apply for a British passport.
British citizens have the right to live and work in the United Kingdom or any other European Union country. They may also travel to the United States under the visa-waiver programme for UK citizens.
British citizenship was extended to all British Overseas Territories (BOT) citizens as a result of the British Overseas Territories Act of 2002. Persons naturalised as BOT citizens following the enactment of the Act on May 21, 2002, do not automatically become British citizens but are eligible to register as British citizens.
The extension of British citizenship to British Overseas Territories citizens was part of the UK Government's 1999 White Paper entitled Partnership for Progress and Prosperity, which outlined the UK's policy in respect of the overseas territories.
1. The nine persons registered as British citizens today, Thursday, March 10 are:
Colette Marietta DEANE
Vincent Edwards DEANE
Kiwana Tissa EMMANUEL
Leonidas Aracelis RAMOS DE GRACIA
Felipe Gracia GEORGE
Natasha Tracey LEWIS
Pamella Joan PHILIP
Lydia Cecilia PLAUGH
Joseph Clive TYSON
Author