Ministry of Education, Youth Affairs and Sports
Release Date:
Friday, 25 September 2015 - 9:15am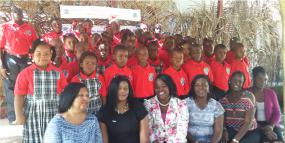 The Jost Van Dyke Primary School began the 2015-2016 academic school year with significant changes to their uniform.
Pictured are Jost Van Dyke Primary School teachers from left to right Ms. Desiree Gomez, Mrs. Racquel Collins-Willory, Principal Ms. Lavern Blyden, Mrs. Jacklyn George, Mrs. Linda Graham-Auguiste, Ms. Jessica Callwood and students dressed in their new uniform.
Principal Blyden said that the democratic uniform changeis part of the school's effort to build a positive school culture and many students shared that they were happy to be included in the discussion and selection of the new uniform colors.
Author