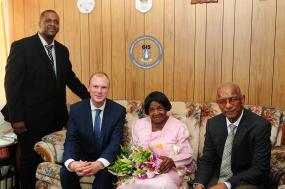 Premier of the Virgin Islands, Dr. the Honourable D. Orlando Smith, OBE joined by His Excellency, the Governor Augustus Jaspert and Leader of the Opposition, Honourable Andrew Fahie, made a special visit to the Territory's newest centenarian, Mrs. Aleatha Katura Fraser yesterday at her home in Carrot Bay.
Premier Smith presented Mrs. Fraser with a $5,000 grant from the Government of the Virgin Islands, as part of a decade old tradition honouring the Territory's "golden citizens" for their valuable contribution to the development of the Territory.
The grant is in accordance with policy which states: "…all residents in the Territory who reach the age of one hundred (100) years, be given a one-off grant of five thousand dollars ($5,000.00)…"
Her Majesty the Queen also issued flowers and a card to Mrs. Fraser in commemoration of her 100th birthday.
Mrs. Fraser is the fourth of 11 children born to the late Joseph A. Smith and Christalia Alvina Smith. She grew up in Carrot Bay and later married Mr. George W. Fraser.
Mrs. Fraser loves singing and in her earlier years she enjoyed cooking, baking, sewing, traveling and also enjoyed playing the tenor banjo and harmonica. Mrs. Fraser is known to be a hard-working, caring, compassionate and God-fearing person who always welcomed persons to her home and always assisting those in need in the community.
Photo Attached: Premier of the Virgin Islands, Dr. the Honourable D. Orlando Smith OBE, joined by His Excellency the Governor, Augustus Jaspert, Leader of the Opposition, Honourable Andrew Fahie and centenarian, Mrs. Aleatha Katura Fraser. (Photo credit: GIS/ Ronnielle Frazer)
Author
Ministry or Department Associated with this News Article: