Ministry of Communications and Works
Release Date:
Wednesday, 14 September 2016 - 12:45pm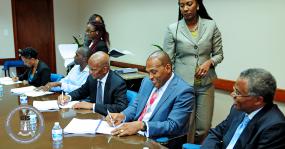 Residents of Virgin Gorda will have a safer road to use with the commencement of road improvements to Lee Road in the Valley.
A contract was signed on September 13 between the Government of the Virgin Islands and Creative Builders Limited to undertake the Caribbean Development Bank Loan Funded project on Lee Road, Virgin Gorda.
Minister for Communications and Works, Honourable Mark Vanterpool said that this project will provide a safer road for residents and visitors to the Island and stated, "Today's contract signing reaffirms our Government's commitment to maintaining and upgrading our Territory's road network to ensure safe travelling for residents and visitors."
He added, "I am pleased to see the process towards the rehabilitation of this road being advanced to the stage of the award and signing of this contract and we are expecting to see the completion of this project within the next eight months."
The contract was awarded for $1,664,855.50 and works comprise of demolishing and rebuilding concrete box drains; reconstructing 650 meters of concrete road pavement; and construction of 441 meters of reinforced concrete box drains: 93 meters of reinforced concrete swale drain; a twin HDPE pipe culvert including manholes, construction of two reinforced concrete box culverts and fabrication of metal gratings over box drains.
Representative for the Ninth District, Dr. the Honourable Hubert O'Neal said that he is thrilled that works will begin because Lee Road serves as the main road on Virgin Gorda.
Honourable O'Neal said, "It is actually the busiest road and the main artery in the Valley, Virgin Gorda. Also, if you know much about Virgin Gorda, most of the commercial activity in Virgin Gorda occurs right there on that main strip and I am pleased to see the redevelopment of this road. "
Managing Director for Creative Builders Limited, Mr. Anselmo Stevens said that he holds a deep passion for the project because it is his home and for this, residents should expect works to be completed within the scheduled time.
Mr. Stevens added, "We are happy that the Government of the Virgin Islands has chosen us to complete this task for them. A very important task because the road plays an intricate roll where tourist pass. We are here as a builder/contractor to give you the finest work in time and with minimal delays."
Mr. Stevens assures the public that although this is the company's first government project of this magnitude, they are well equipped on delivering due to their esteemed portfolio in the private sector.
To date, 13 contracts for works, with a total sum of $9,771,167.76 have been signed for engineering consultancy, planning regulations and construction works. Seven out of the 13 are completed and include Pleasant Valley, Ballast Bay, Parham Town, Thomas Land, Huntum's Ghut, Long Trench and Fortune Ghut. Consultancy by Tira Green for planning regulations is also complete. Contracts that are still being carried out include FDL Consultant Inc. for engineering consultancy and construction works in Nottingham Estate, Greenland and Wind Hill.
The Caribbean Development Bank approved a $15.67 million loan for the Virgin Islands in March 2012, to help with rehabilitating the Territory's roadways, after the devastation caused by Tropical Storm Otto in October 2010.
https://bvi.gov.vg/sites/default/files/388_-_cdb_contract_signing_sound_bite_hon._mark_vanterpool.mp3
https://bvi.gov.vg/sites/default/files/388_-_cdb_contract_signing_sound_bite_dr._hon._hubert_oneal.mp3
https://bvi.gov.vg/sites/default/files/388_-_cdb_contract_signing_sound_bite_anselmo_stevens.mp3