Premier's Office
Release Date:
Wednesday, 29 June 2022 - 1:19pm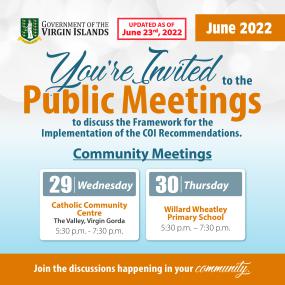 Join the conversation about government reform in the Virgin Islands, and attend one of the community meetings planned to discuss the 'Framework for Implementation of the Recommendations of the Commission of Inquiry (COI) Report and Other Reforms'.
The meetings began on June 20, with a view to respond to the public's questions about the ongoing government reform outlined in the framework, and to share ideas towards building a better Virgin Islands.
In his opening remarks at the June 20 meeting, Premier of the Virgin Islands Dr. the Honourable Natalio D. Wheatley said, "You the Virgin Islands people have the opportunity to make your input into [the government reforms]. I expect that as these consultations are conducted, Virgin Islanders will take full advantage of these forums and make yourselves very involved in the process for shaping these laws, policies and systems."
Thus far, the meetings have seen mixed audiences who have lent their voices to specific topics of the implementation framework, including the new Assistance Grants programme.
One attendee, Dr. Harlan Vanterpool, in an invited comment said, "I believe that the opportunity has been given and it should be taken advantage of…when we don't make our voices heard, what happens is that things go unchanged because we have not used the opportunity to make an impact."
Dr. Vanterpool also encouraged others to attend the meetings, stating, "Please go out to the meetings to learn what's being done on behalf of you and the Territory. Give your opinion, voice your concerns and be part of the change."
The next meeting is scheduled for today, June 29 at the Catholic Community Centre, Virgin Gorda; and on June 30 at Willard Wheatley Primary School. Both meetings are from 5:30 p.m. to 7:30 p.m.
The framework can be downloaded using this link: proposal_for_implementation_of_coi_report_recommendations_-_government_of_national_unity_of_the_virgin_islands_0.pdf
The framework's introduction states: "The recommendations overall are aimed at strengthening weak areas of governance highlighted in the [COI] report."
The document further states: "The ultimate objectives of the reform process are to deliver justice where wrongdoing is found, engender a new culture in Government in the handling of the public's business, and ensure the effective functioning of the Government institutions and systems that support good governance."
The public meetings are in line with the ongoing reform, with a view towards improved infrastructure, improved delivery of public services, and justice for all in the Virgin Islands.
###
NOTES TO EDITOR(S): Photograph and fliers are attached.
Photo Caption: Dr. Harlan Vanterpool lends his voice to the conversation at the public meeting on June 21 at The Watch House. (GIS: Ronnielle Frazer)
Fliers: Public Meeting Calendars.
Author