Ministry of Education, Culture, Youth Affairs, Fisheries and Agriculture
Release Date:
Tuesday, 8 March 2016 - 5:00pm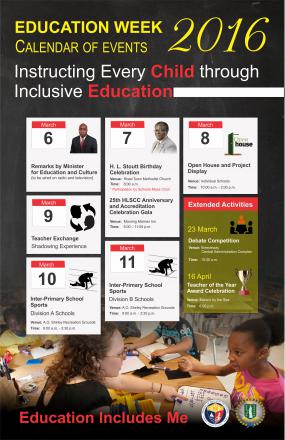 Educators and students are joining the Ministry of Education and Culture in bringing education to the forefront in observance of Education Week 2016.
This year's theme is, "Instructing Every Child through Inclusive Education' with the subtheme, "Education Includes Me."
Minister for Education and Culture, Honourable Myron V. Walwyn delivered an address on Sunday, March 6 via television and radio to declare the week officially opened.
Minister Walwyn, in his address said, all children and people have the right to education.
He stated, "As the stewards of our educational system, we must ensure that we provide an opportunity for all of our students to gain an education that will serve them in their overall development."
Honourable Walwyn added, "We must work to ensure that all our schools can easily cater to the identities, languages, abilities, and talents of our students. We must recognise and affirm an inclusive environment where the learning needs of students are addressed."
As part of Education Week 2016 activities, all schools were required to host an Open House and Project Display Day today, March 8 from 10:00 a.m. until 2:00 p.m., where parents and the public viewed the work and abilities of students through their projects, and teachers could strengthen connections with parents.
A Teacher Exchange event was also introduced to the week's activities and will be held on Wednesday, March 9. This activity will allow any teacher to teach at a school other than the one to which he or she is assigned.
The objective is for teachers to experience teaching in a different environment with different leadership. Private schools have also been invited to participate.
Also on Wednesday, secondary students will shadow various Ministers of Government, Permanent Secretaries, Heads of Departments and Principals to get a first-hand experience and knowledge of the duties and roles of the general daily functioning of the office.
Inter-Primary School Sports Competitions are scheduled for Division A schools on Thursday, March 10 at the A. O. Shirley Recreation Grounds. The annual March Pass begins at 9:00 a.m. and the events will commence at 10:00 a.m. until 3:30 p.m. Division B schools will end the week's activities on Friday, March 11 beginning at 9:00 a.m. There will also be an Opening Ceremony and March Pass on that day.
The Ministry will extend their activities to include a debate competition where the 2015 Secondary School Debate Champions will compete against the Virgin Islands Youth Parliament on Wednesday, March 23 in the Breezeway of the Central Administration Complex beginning at 10:30 a.m. Debaters will argue the topic: "A foreign investor should be given citizenship based on major investments made in the Territory."
The Teacher of the Year Award event will also be held as part of the Ministry's extended activities on Saturday, April 16 at 6:00 p.m. at Maria's by the Sea.
The public is encouraged to support the week's activities by participating in the events.
Education Week is an annual event in which the work and abilities of students, teachers, and the school in general, are highlighted.
For more information, persons should contact the Ministry of Education and Culture at 468-2151.
https://bvi.gov.vg/sites/default/files/108_-_education_week_2016_message.mp3
Author