Premier's Office
Release Date:
Monday, 30 November 2015 - 12:15pm
Minister for Health and Social Development, Honourable Ronnie W. Skelton is acting Premier from November 26 to December 1 in accordance with Section 55 (2) of the Virgin Islands Constitution Order, 2007.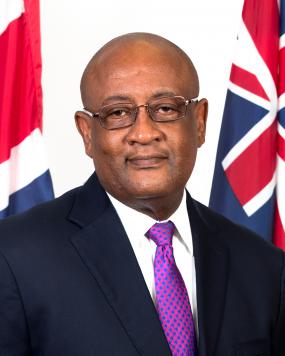 Premier and Minister of Finance, Dr. the Honourable D. Orlando Smith, OBE is attending the Joint Ministerial Council Meeting (JMC) and other discussions in the United Kingdom which end on Wednesday, December 2. Following the JMC meeting, Premier Smith will proceed on personal leave from December 3, returning to the Territory on December 12.
Deputy Premier and Minister for Natural Resources and Labour, Dr. the Honourable Kedrick D. Pickering is also in the United Kingdom where he delivered the keynote address at the United Kingdom Overseas Territories Students Conference on November 29. Dr. Pickering will return to the Territory on December 1.
Section 55 (2) of the Virgin Islands Constitution Order, 2007 states: "If both the Premier and the Deputy Premier are expected to be absent from the Virgin Islands for more than forty-eight hours, the Governor shall authorise another Minister designated by the Premier to perform the functions of the office of Premier; and the Governor shall revoke this authority on the return to the Virgin Islands of either the Premier or the Deputy Premier."
Author