8 November 2017 - 12:16pm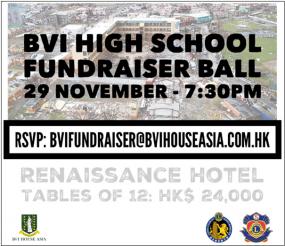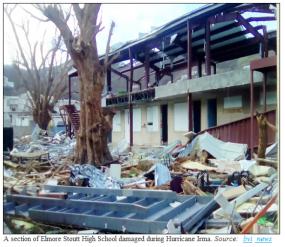 Hong Kong–based BVI financial services industry professionals, Lions Club of Hong Kong IFC and Lions Club of Hong Kong Shouson Hill Charitable Foundation will host a fundraising event in support of the British Virgin Islands post-hurricane recovery efforts.
One of the coordinators of the event, Jonathon Clifton, Group Managing Director, Company Formation of Vistra, said that the industry wanted to show its support for the BVI in the form of corporate social responsibility.
Members of the industry, Lions Club of Hong Kong Shouson Hill and Lions Club of Hong Kong IFC are joining efforts to support the rebuilding of the largest public high school in the BVI. The BVI High School Fundraiser Ball will take place at 7:30 pm on November 29 at the Renaissance Hong Kong Habourview Hotel.
In September of this year, Hurricane Irma brought devastation to the BVI, destroying or severely damaging nearly all buildings. Amongst the devastation left by Irma was the complete loss of the BVI's largest public secondary school, Elmore Stoutt High School, rendering most of the building unusable just as the island's students were about to embark on their new school year.
"We, alongside other members of the Hong Kong community, would like to raise enough money to assist in the rebuilding of Elmore Stoutt High School so that students can return to their normal day-to-day routines and the teachers can continue providing the students with the education they deserve," said Clifton.
"We have already had an overwhelming response from members of Hong Kong's offshore community," he added. "We are looking forward to coming together at the end of the month to raise money for a great cause."
Director of BVI House Asia, Elise Donovan, said: "We are most grateful for this generous initiative of the Hong Kong industry, Lions Club of Hong Kong IFC and Lions Club of Hong Kong Shouson Hill." She added, "The BVI's recovery will be made faster and better with initiatives such as these." The Fundraiser Ball tickets are being sold for tables of 12 at a cost of HK$ 24,000. However, there is also an option to purchase individual tickets for HK$ 2,200 per person. All funds raised on the night and from ticket sales will go directly towards the rebuilding of the school.
For more information about the BVI High School Fundraiser Ball, please email to bvifundraiser@bvihouseasia.com.hk
Photos attached:
(1) - BVI High School Fundraising Ball Poster
(2) - A section of Elmore Stoutt High School damaged during Hurricane Irma. Source: BVI News
Author
Ministry or Department Associated with this News Article: