Ministry of Education, Culture, Youth Affairs, Fisheries and Agriculture
Release Date:
Monday, 6 November 2017 - 2:19pm
HON. MYRON V. WALWYN REMARKS FOR THE OPENING OF SCHOOL
NOVEMBER 06, 2017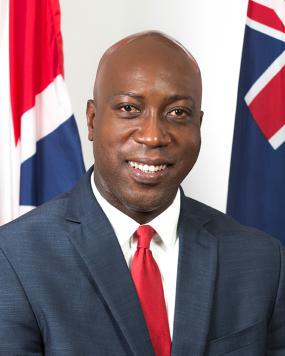 I once again take the opportunity to welcome all to the start of the 2017/2018 academic year and to address educators, parents, students and the general community. We have had so many set-backs for the start of school this year; first with the flood rains causing a delay and then just as we planned to open, Irma visited and then 12 days after Maria passed through. However, with determination and hard work we are finally ready to start the school year, notwithstanding the many changes we have had to make. It is not and will not be business as usual for a period.
I want from the very outset to thank all the principals, teachers and staff of the schools as well as the staff of the Ministry of Education along with many individuals and organizations who stepped up to the plate to ensure that we got things ready for our young people to continue their education. It has been a difficult time for all of us – there is hardly a person who did not suffer in one way or another but we are a resilient people and rebuild we will, rebuild we must.
As you are aware, we were able to have our early childhood students and our senior secondary school students on Tortola in formal instructions less than a month following the passage of hurricane Irma. The secondary school, grades 7 – 12 on Virgin Gorda as well as the students on Anegada, all returned to a structured learning environment on October 5th. Although there are still some structural issues to be dealt with, it was good to know that teaching and learning began and is running smoothly. On Jost Van Dyke, classes began on 16th October. We were able to have the H Lavity Stoutt Community College reopened on 23rd October and now we are pleased to have our primary schools ready to deliver instructions to our K through 6 students and our junior high school students at both BFEC and ESHS on November 6th. This therefore means that all students in the Territory of the Virgin Islands will be in school as of November 6th.
It is important to note that the 2017/2018 academic year will not flow in its usual way. All time lost in terms of days will be made up throughout the academic year, so both teachers and students will have reduced end of term breaks to make up for the loss of time. The term dates for the 2017/2018 academic year are as follows:
Advent Term – November 6 - February 2
Advent Term Break – February 5 - February 9
Lent Term – February 12 – May 4
Lent Term Break – May 7 – May 11
Trinity Term – May 14 – July 20
Graduation Week – July 23 – July 27
Summer Break – July 27 – August 24
Parents were asked to register primary students in schools closest to where they live to provide an ease of access for all students. Thus far, we have 1685 students registered at primary schools for the new academic year and this will enable us to have a full day of lessons with school commencing at 8:40am and ending at 3:30pm. Parents who were not able to register their children before November 6th are still asked to bring them to the school nearest to where they live and we will do the registration process at that time.
Our areas of focus for this academic year will include improving student performance in Math. Our newly appointed Education Officer for mathematics will be reviewing the curriculum and providing training workshops in the teaching of mathematics. Professional development will continue throughout the school year with the Mathematics focus as well as other areas such as building critical thinking skills in students, reading across grade levels and differentiated instruction. More teacher training in the 'Return to Happiness' programme will take place throughout the school year and students will have ongoing psycho-social sessions.
We aim to have a seamless transition of our students through grade levels and as such, we are steadily developing a stronger intervention programme at the primary and secondary level. Special Education teachers and reading specialists have been assigned to all our schools for a few days a week under our student support services programme. Early intervention is key to reducing the learning deficiencies we are now seeing in our students. Special education programmes exist in all progressive education systems regionally and internationally and with the thrust for inclusion of all students, I am happy to say we are building our student support services programme and this school year we will introduce a therapeutic kindergarten class at the early childhood level to accommodate children with physical and academic learning challenges.
Now more than ever, it has become important for the use of technology in the classroom. We will continue to enhance the knowledge and skills of our educators to integrate the use of technology in the education process. Our teachers for years have yearned for the opportunity to be online while teaching students. Through the assistance of NotesMaster UK, our teachers in the senior school have been taken through training to use the online platform used by CXC, which will assist the teachers and students to have access to the information needed for their preparation. Our ICT unit in the Ministry have direct responsibility for ensuring this work will continue and for monitoring the learning hub online platform for grades 4 – 12 and the use of the digital textbook programme in grades 7 and 8. We are grateful to the local Internet providers, particularly Digicel and Flow who have been working with us to ensure that we have Internet access in our schools that will be using these platforms.
In Road Town, students from the Althea Scatliffe Primary School, Enid Scatliffe Pre-Primary School, Enis Adams Primary School and Eslyn Henley Richiez Learning Centre will be housed at the Althea Scatliffe Primary School.
The Alexandrina Maduro Primary School will accommodate students from Baughers Bay, Free Bottom, Purcell Estate and surrounding areas.
On the Eastern End of the island, both Francis Lettsome Primary and Willard Wheatley Primary will be in operation.
Students in the Belle Vue and immediate areas will attend the Joyce Samuel Primary School.
Ebenezer Thomas Primary School will accommodate students from Sea Cow's Bay and the immediate areas outside of Sea Cow's Bay.
Since my last statement, recognising the growing numbers added for the schools in the west, we have decided to utilise the UNICEF tents on the Capoons Bay Field to house the students from the Western End of the Island. This means that the Ministry, as a temporary measure, will have the students from West End, Carrot Bay, Cane Garden Bay and surrounding villages attend school at the Capoons Bay Field location.
On Virgin Gorda, through a donation of a 4,000 square feet structure from the Florida Cruise Line, the Bregado Flax Educational Centre – Primary students will be able to have a separate learning area from the secondary students. The structure will be placed in the vicinity of the existing school and the secondary students will be housed in the now primary section. The students of the Robinson O'Neal Memorial Primary School will be housed at the Cornerstone School.
After the first week of this new term, the Ministry will focus its attention on the schools that have been deemed unusable with a view to getting them up and running as soon as possible. We envisage this rebuilding programme to be one of public-private partnerships as we have already received some significant promises from persons in the local and international business communities to assist in this regard.
Convoy of Hope and Team Rubicon have been instrumental in making the JVD school more conducive to learning. They are currently building a new kitchen on the school grounds, have provided school supplies for the teachers and students and have been providing lunch and snacks. Convoy of Hope will also be providing lunch for our primary students at least the first week of our November 6th opening and going forward, meals will be provided on a needs basis throughout the education sector. We remain extremely grateful to these organisations for their continued assistance. We will be asking parents who can afford to provide bottled water for their children to please do so. We do intend, though, to have drinking water available for students who do not have drinking water.
The digital textbooks are estimated to be here within the next week and training on the use of the devices will be conducted for ICT, teachers, students and other stakeholders on Monday, November 6th. Distribution of the digital textbooks will begin on November 13th and digital textbooks in the first instance will be available for grades 7 and 8. Hard-copy textbooks for students in grades 9 and 10 are now available for purchase at Island Services and there are no issues surrounding textbooks for grades 11-12 as the same textbooks are used for the senior programme. With the pledges for computers and laptops and tablets, we envision that we will be able to continue using the technology in the classroom during this difficult period when we have lost so much to enhance the teaching learning process.
The Department of Youth Affairs and Sports has put together a creative learning programme that will keep students on the 8 through 12 shift occupied until 3pm. The director of the Department of Youth Affairs and Sports and her team will visit the Elmore Stoutt High School to register students for the programme during the week of November 6th. Areas for the creative learning programme will include: martial arts, community service, podcasting, speech, drama, softball and baseball, flag football, basketball, information technology, academics, art, painting and dance. We will provide an update for the venues during this week.
Please note the following with regards to orientation:
On Thursday 9th November, parents of primary students are asked to accompany their child to school for orientation. Parents of new students should report at 9:00 AM and parents of returning students at 1:00PM.
Parents of grade 7 students of the Elmore Stoutt High School and the Bregado Flax Educational Centre - Secondary Division are asked to report to school with their child at 9AM on Monday 6th November; parents of Grade 8 students on Tuesday, November 7th; and parents of Grade 9 students on Wednesday November 8th for orientation and class placement.
I would like the public to know that a significant amount of work was done by the Ministry of Education, principals, teachers and other volunteers to enable our students to return to school following the passage of the hurricanes. The physical school plant conditions that we are accustomed to have changed, but I want to assure parents and the community that much care, effort and thought was put into making sure the students and teachers are as comfortable as possible under the circumstances. We can guarantee that the quality of instructions will be at its usual high level and during the first two weeks of school, I will, as Minister, along with my Permanent Secretary, Chief Education Officer and other education officers be visible at schools across the territory to ensure that things are progressing well. I would like to wish all of our teachers and students a very successful academic year. This school year will certainly be one of challenges, but I do believe that if we all work together, it can indeed be a very rewarding one. May God bless us all, and may God bless these Virgin Islands.