Office of the Governor
Office of the Deputy Governor
Release Date:
Friday, 11 August 2017 - 4:40pm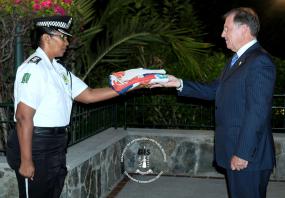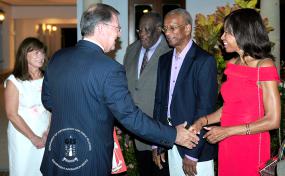 His Excellency the Governor John S. Duncan, OBE concluded his tenure in the Virgin Islands and departed the Territory on Monday, August 7.
Prior to his travel, a departure ceremony was held at Government House on Sunday, August 6. In attendance were the Deputy to the Governor, Dr. Robert Mactavious; Premier of the Virgin Islands, Dr. the Honourable D. Orlando Smith, OBE; senior public officers and the Governor's Office/Government House staff.
Officers from the Royal Virgin Islands Police Force detachment presented arms to His Excellency. The Governor's standard (the Governor's Flag) was then lowered and presented to Governor Duncan.
The Governor in his final remarks stated, "It's a sad day when you take down your standard, but three years have come to an end."
Governor Duncan in his address to the Territory's politicians said, "This country, like many around the world, has many challenges ahead. The future of this country is in your hands as the elected representatives. I hope you will choose wisely on the path ahead and I wish you God's speed."
He also addressed the senior government officials, "Thank you for your energy, your professionalism and dedication to taking this country forward and improving all the various services that you are in charge of. Thank you very much for all that you have done."
Governor Duncan also paid tribute to the team at Governor's Office and Government House. "Thank you for your support through a challenging period; through hurricanes, through ships' visits, through all the things that you have done to make this a really effective and professional team", he added.
Governor John Duncan took office on August 15, 2014 and was the 12th Governor of the Virgin Islands.
Photographs attached: (Photo Credit: GIS/Ronnielle Frazer)
Photo 1: – Superintendent of Police, Ms. Jacqueline Vanterpool, presents Governor Duncan with the Governor's Standard.
Photo 2: – Governor Duncan bids farewell to the Premier of the Virgin Islands and other individuals on the receiving line.
Author