Premier's Office
Department of Information and Public Relations
Release Date:
Wednesday, 17 June 2015 - 10:15am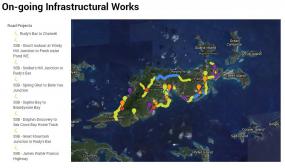 The Government of the Virgin Islands has officially launched an Infrastructural Works Map using the Google mapping interface to show precise locations of where works are being carried out in the Territory.
The map can be viewed on the Government's website at www.bvi.gov.vg/infrastructuralworks.
It has been developed to give information and precise locations of scheduled work, road updates, completed works, water upgrades and detour options, where necessary. Updates on the map will be made periodically as they become available.
Deputy Permanent Secretary for the Ministry of Communications and Works, Mr. Andrew St. Hilaire, said, "It is the aim of the Government to provide all available tools for the public to stay knowledgeable about the vast amount of road works that are being executed in the Territory."
He added, "This initiative will not only provide information on the different road works, but also provide information on various Government projects including the National Sewerage Programme, the Cruise Pier Project, the BVI Electricity Phase V and all projects under the Caribbean Development Bank loan, to name a few."
The Government of the Virgin Islands and the Ministry of Communications and Works advises the public to continue to stay abreast with the local community boards on the radio and online.
https://bvi.gov.vg/sites/default/files/voice_007.mp3