Department of Youth Affairs and Sports
Release Date:
Tuesday, 10 May 2016 - 1:45pm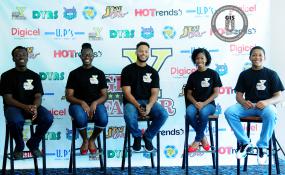 The finalists for the first Gen-Y Factor Competition have been working with their coaches, practicing their songs and are aiming to put on their best performances for the June 25 show.
This morning, the Department of Youth Affairs and Sports hosted a press conference at UP's Cineplex, where five of the finalists were officially introduced.
Acting Director, Mrs. Brenda Lettsome-Tye said that the finalists "blew away the audience" at the semifinals in April and the public should expect the same on June 25.
She also made the official announcement that X Factor winner, BVI's own Melanie Amaro is a special guest judge, and expected to perform.
Mrs. Lettsome-Tye said that the Minister for Education and Culture, Honourable Myron V. Walwyn was also impressed and that the finalists have his full support.
The finalists, all between the ages of 15 and 29, were chosen after the semifinals were held in April. They are Calden James, Kenrico Wheatley, Dia Noel, Durnel Sanderson, Kaywanna Pope, Kitwan Maduro, Leigha Burke and Nakeira Penn.
For more information about the competition, persons can contact the Department of Youth Affairs and Sports at 468-4949. Also, visit the Government of the Virgin Islands' Facebook page for snippets of the finalists singing at the press conference.
The Ministry of Education and Culture is committed to creating a "Culture of Excellence".
Author