Ministry of Education, Youth Affairs and Sports
Release Date:
Tuesday, 13 September 2016 - 4:39pm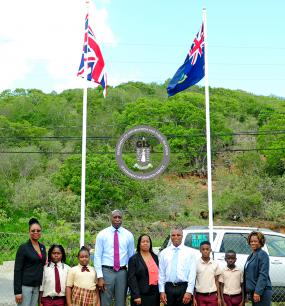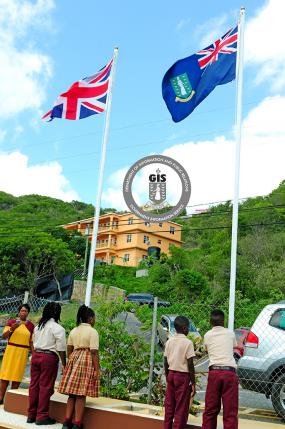 The Robinson O'Neal Memorial Primary School (ROMPS) is now the 12th school to have its own official flag hoisting ceremony.
The ceremonies are part of the Ministry of Education and Culture's mandate to promote the Territory's signs and symbols and encourage national pride.
Minister for Education and Culture, Honourable Myron V. Walwyn told the gathering earlier today that the flag hoisting ceremonies are happening in schools to instill values in students, adding, "We are instilling these values very early so that you can make a meaningful contribution to the development of the Territory."
Honourable Walwyn noted the importance of students learning the Territorial song and pledge, stating, "The words [of the Territorial song and pledge] will slip into their lives and their thoughts and guide their actions."
The education minister commended the principal and teachers at ROMPS and his team at the Ministry of Education and Culture, and also highlighted Assistant Secretary, Ms. Lorna Stevens whose portfolio includes flag hoisting ceremonies.
He said, "The people of Virgin Gorda should be very proud of Ms. Stevens…She is an excellent civil servant."
Representative for the Ninth District, Honourable Hubert O'Neal commended Honourable Walwyn and the Ministry of Education and Culture for the initiative to preserve the Territory's cultural heritage.
To this end, the district representative said, "[The flag hoisting] may seem like a trivial thing, but it is not. It teaches youngsters that we have a heritage and culture to be proud of…The act [of flag hoisting] will engender great pride in our students."
Honourable O'Neal also spoke about his late father Robinson O'Neal, whom the school is named after. He told the gathering his father would be proud of the flag hoisting and also the development of ROMPS.
Acting Director of the Department of Youth Affairs and Sports, Mrs. Brenda Lettsome-Tye gave an overview of the Territorial signs and symbols, and explained, "[The Territorial signs and symbols] give us [in the Virgin Islands] a voice to stand out among our Caribbean family."
ROMPS Principal, Ms. Norma Creque gave the Vote of Thanks at the ceremony which was attended by parents and other persons from the North Sound community.
The Ministry of Education and Culture is committed to 'Creating a Culture of Excellence' through Territorial pride and the promotion of the Territorial symbols.
Author