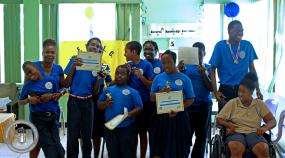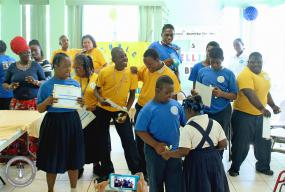 Eslyn Henley Richiez Learning Centre's Blue House students are once again champions of the schools' fifth annual Spelling Bee and General Knowledge Quiz Competition.
The competition was held yesterday, March 14 as part of the Education Week 2017 activities. The students from Blue House competed against students from Gold House and provided answers to questions from four main categories: spelling, literacy, general studies and numeracy.
Principal, Mrs. Vansittart Huggins commended students on a job well done and said that she was certain that parents, teachers and the community as well are all proud of the students and the great job that they continue to put forth.
Mrs. Huggins applauded the teachers and explained that they are tasked with not only teaching the students, but also building their confidence to ensure that they were ready and willing to participate.
The final scores were Blue House with 100 points and Gold House with 50 points.
Student, Shamoy Manning, was the overall top scorer as well as the top scorer for Blue House. He won awards for placing first in literacy and numeracy and second in spelling. Tahee Lloyd was the top scorer for Gold House. He also received awards for second place in literacy and general studies.
The competition's other awardees included Akeem Frank of Blue House, who received awards for first place in General Studies; and Antonio Castello of Blue House who placed first in spelling and third in literacy.
The Spelling Bee and General Knowledge Quiz is an annual event that tests students' cognitive and learning knowledge as well as showcases the work that the students are capable of doing.
The Ministry of Education and Culture continues to support the Eslyn Henley Richiez Learning Centre and its annual Spelling Bee and General Knowledge Quiz as a movement towards inclusive education.
Education Week 2017 is celebrated under the theme, Care for Me, Teach Me, I Will Learn and subtheme, Shared Stories, Better Learning, Stronger Communities.
For more information, persons should contact the Eslyn Henley Richiez Learning Centre at 468-3701 ext. 2519.
Photo Captions
Overall top scorer, Shamoy Manning of Blue House pictured receiving his awards as top scorer for Blue House, placing first in literacy and numeracy and placing second in spelling. (Photo Credit: GIS/Franklyn Skerritt)
Students from the winning house, Blue House, pictured receiving their awards. (Photo Credit: GIS/Franklyn Skerritt)
Blue and Gold House students from the Eslyn Henley Richiez Learning Centre pictured celebrating after receiving awards for the fifth annual Spelling Bee and General Knowledge Quiz. (Photo Credit: GIS/Franklyn Skerritt)
Author
Ministry or Department Associated with this News Article: