Ministry of Health & Social Development
Social Development
Release Date:
Tuesday, 28 July 2020 - 5:59pm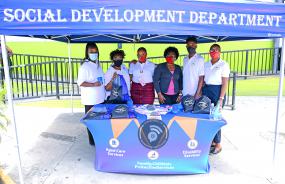 Social workers continue to assist families in preparing for emergencies by distributing emergency starter bags filled with supplies for children.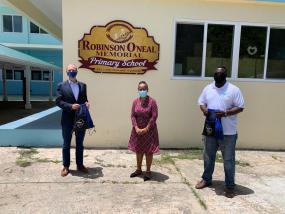 The bag initiative is an activity stemmed from the Children in Emergencies campaign led the Social Development Department under the auspices of the Ministry of Health and Social Development and funded by the United Nations Children Fund (UNICEF) to ensure that child protection and safety measures are implemented before, during and after an emergency.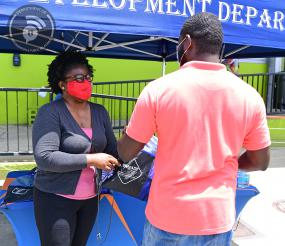 Head of the Family, Children and Protective Services of the Social Development Department, Ms. Laurel Freeman stated that the department distributed 200 bags just before the 24-hour curfew in March of this year and distribution has continued to families in need throughout the Territory in preparation for the hurricane season.
The bags contained first aid items, parental information on COVID-19, Disaster preparedness tips and other hygiene items for children.
As the Territory is now under Tropical Storm Warning, parents are reminded to review their emergency plans and ensure that the welfare of their children is considered in those plans and preparation. For more information on Family Emergency Planning, persons can visit www.bvi.gov.vg or call 468-3650 for assistance.
The Ministry of Health and Social Development aims to provide leadership that promotes health, social wellbeing, and a safe environment as positive resources for sustainable human development.
###
Note to Editors: photographs are attached.
Caption 1 of 3: Social workers of the Social Development Department during distribution at the Riteway parking lot held on July 24, 2020. (Photo Credit Ronnielle Frazer/GIS)
Caption 2 of 3: Social workers distributing emergency bags on Tortola. (Photo Credit Ronnielle Frazer/GIS)
Caption 3 of 3: His Excellency the Governor Augustus Jaspert and member of the Virgin Gorda Resilience Team, Mr. Brian Davis, distributing emergency bags to the Principal of the Robinson O'Neal Memorial Primary School on behalf of vulnerable students in Virgin Gorda. (Photo provided)
Author