Ministry of Education, Culture, Youth Affairs, Fisheries and Agriculture
Release Date:
Friday, 14 August 2020 - 4:44pm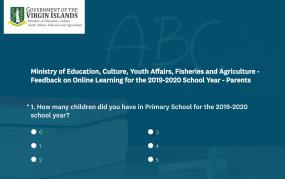 The Ministry of Education, Culture, Youth Affairs, Fisheries and Agriculture has launched a series of surveys to obtain feedback from various stakeholders on the online learning experience as it continues to plan for the new school year.
Students, teachers, parents and employers/supervisors are being asked to complete the respective surveys which will open today and run until next week Friday, August, 21.
Permanent Secretary, Mrs. Carolyn Stoutt Igwe said that while the ministry has received preliminary feedback, it is important that additional feedback be received from students, teachers, parents, and employers, upon whom the success of the new school year will be dependent. She said she is appealing for persons to complete the short survey as the ministry continues to shape the outlook of education for the next school year.
Mrs. Stoutt Igwe said during Phase I of the ministry's preparations, a preliminary assessment of the last school term was conducted with principals where they provided feedback on an internal questionnaire followed by the establishment of a working committee under the chairmanship of Director of Curriculum, Mrs. Prudence Mathavious at the end of June for the Opening of Schools for the 2020 – 2021 Academic Year.
Mrs. Stoutt Igwe added, "The objective was to engage various stakeholders to lend their voices to develop a working framework for education in this COVID-19 era. The committee was subdivided into groups with each group dealing with a specific sector, namely: Primary: K – 2 & Students with Special Needs; Primary: Grades 3 – 6; and Secondary."
Phase II of the ministry's preparations include the launch of the assessment surveys with key stakeholders and the seeking of Cabinet's approval of the draft Framework for the Reopening of Schools for the New School Year.
The ministry will seek to finalise the Framework in Phase III, based on earlier internal feedback as well as feedback from the surveys now being launched.
The following groups are asked to complete the surveys using the links suggested.
For more information contact the ministry at 468-9491.
Author