Ministry of Transportation Works and Utilities
Water and Sewerage
Release Date:
Monday, 6 June 2016 - 4:30pm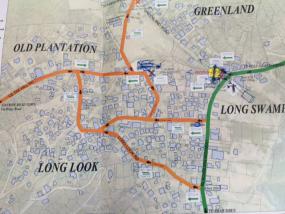 Motorists and residents of East End/Long Look are notified that work will resume on the sewerage system on Wednesday, June 8.
According to the Ministry of Communications and Works, the project will resume at the intersection of Greenland / Little Dix Roads and the bridge along the Blackburn Highway near the Long Swamp Police Station, and is expected to last for fifteen days.
The firm of Autland Heavy Equipment Ltd is contracted to carry out the project that will see the continuation of the Gravity Mains installation from Fat Hogs Bay to Long Swamp which commenced in April 2015. This segment came to a temporary halt in June 2015 upon completion.
The first part of the Gravity Main installation associated with this programme was from Chapel Hill to Parham Town. Upcoming works will complete the Gravity Main section from Parham Town to Long Swamp.
Permanent Secretary for the Ministry of Communications and Works, Mr. Anthony McMaster said, "Road access into Greenland and Little Dix Hill Roads from the Police Station will be closed for the duration of this part of the project. Motorists traveling along Blackburn Highway from Road Town will be redirected through bypass roads at the Long Look bus stop and Fine Foods to access Greenland and Little Dix Hill Road."
The Permanent Secretary said motorists traveling on the Ridge Road unto Little Dix Hill Road will be redirected unto Long Look Road to access Blackburn Highway and/or Beef Island. Detour signs will be erected to aid motorists in the area.
To view the exact location of the project and detours, please visit bvi.gov.vg/roadworks.
The Ministry of Communications and Works thanks the public for their patience and understanding as it continues to enhance the sewerage infrastructure in the Territory.
The completion of the National Sewerage Programme will give residents access to a modern sewage collection and treatment system and will put an end to the current methods of sewerage waste disposal with the implementation of an environmentally friendly solution.
Author