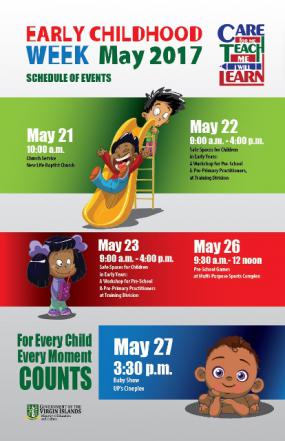 Raising awareness on the importance of early childhood education will be the major objective when Early Childhood Awareness Week is observed from May 21 to 27.
The Early Childhood Unit in the Ministry of Education and Culture will be engaged in a variety of activities from May 21 through 27, under the theme, 'For Every Child, Every Moment Counts' and the sub-theme, 'Care for Me. Teach Me. I Will Learn'.
Acting Education Officer for Early Childhood, Ms. Genevieve McMaster said the goal for the week will be to raise awareness on the importance of early childhood education - particularly in the areas of social, emotional, spiritual, health and physical development.
Ms. McMaster said, "The first few years of learning are the most important for any child's future development. Therefore, it is important to ensure that all children from birth through eight years of age have regular and consistent opportunities for enriching and engaging activities, regardless of socio-economic status, race, family structure or physical ability."
Activities for Early Childhood Awareness Week will commence with a church service at the New Life Baptist Church on Sunday, May 21 at 10:00 a.m.
On Monday, May 22 and Tuesday, May 23, workshops will be held on 'Effective Schools Framework/Positive Behaviour Management' for pre-school and pre-primary practitioners at the Training Division in the Betteto Frett Building from 9:00 a.m. to 4:00 p.m.
The Early Childhood Unit pre-school games will be hosted on May 26 at the Multi-purpose Sports Complex from 9:30 a.m. through 12 noon.
The week of activities will conclude with the hosting of a Baby Show at the UP's Cineplex ballroom on Saturday, May 27 at 3:30 p.m. Tickets are $10 for adults and $5 for children.
A series of public service announcements will also be aired during the week. The recordings will be based on the development of children in the early years.
Additionally, on May 29 through June 9, parents are encouraged to schedule school visits to prospective kindergarten classes of their choice. Parents are asked to make direct contact with the school to schedule these visits.
The public is encouraged to support and attend the events as the unit strives to empower the future.
The Ministry of Education and Culture continues to support the Early Childhood Unit by ensuring that the Territory's youth excel and create a culture of excellence for the Virgin Islands.
Author
Ministry or Department Associated with this News Article: