Premier's Office
Release Date:
Monday, 6 February 2017 - 11:02am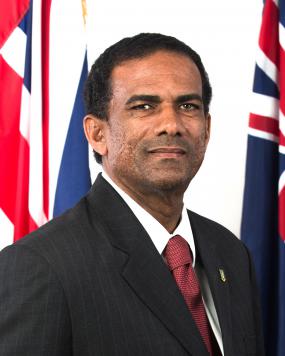 Deputy Premier and Minister for Natural Resources and Labour, Dr. the Honourable Kedrick D. Pickering is Acting Premier from Monday, February 6 to Friday, February 10.
The Deputy Premier is in this acting capacity while Premier and Minister of Finance, Dr. the Honourable D. Orlando Smith, OBE is attending the United Kingdom Overseas Territories (UK-OT) Joint Ministerial Council on European Union (EU) Negotiations and other meetings.
Premier Smith, will call on the UK Government to include the BVI in any new trade arrangements with the EU; ensure freedom of movement for OT citizens across Europe; and maintain financial support to the 11th European Development Fund through 2020 to support OTs on climate change, biodiversity and sustainable energy.
The Deputy Premier's appointment is in accordance with Section 55 (1) of the Virgin Islands Constitution Order, 2007.
The order states, "If the Premier is expected to be absent from the Virgin Islands for more than forty-eight hours, the Governor shall authorise the Deputy Premier to perform the functions of the office of Premier; and the Governor shall revoke this authority on the return to the Virgin Islands of the Premier."
Author