Office of the Governor
Office of the Deputy Governor
Release Date:
Monday, 29 August 2016 - 3:26pm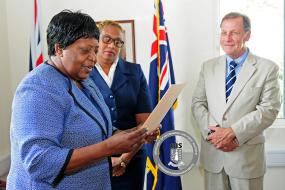 Newly appointed Deputy Governor Mrs. Rosalie Adams is acting in the Office of Governor until Monday, September 19.
Mrs. Adams' appointment to act as Governor commenced on Saturday, August 27 in the absence of His Excellency the Governor Mr. John S. Duncan, OBEwho is on annual leave and is scheduled to return to office on September 20.
Additionally, Her Majesty the Queen signified through the Secretary of State for the Foreign and Commonwealth Affairs that Mrs. Adams be appointed as Deputy Governor of the Virgin Islands from September 1, until February 28, 2018. This is in accordance with section 36(1) of the Virgin Islands Constitution Order, 2007.
Mrs. Adams took the Affirmations of Allegiance and Due Execution of Office administered by Her Ladyship the Honourable P. Nicola Byer on Friday, August 26, surrounded by family and friends.
The public is officially notified on the above matters. Persons may contact the Office of the Governor or the Office of the Deputy Governor for additional information.
Author