Ministry of Health & Social Development
Social Development
Release Date:
Wednesday, 14 September 2016 - 2:56pm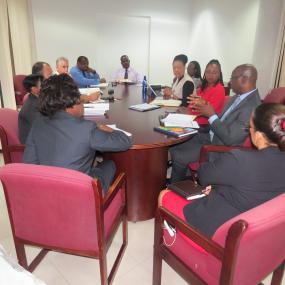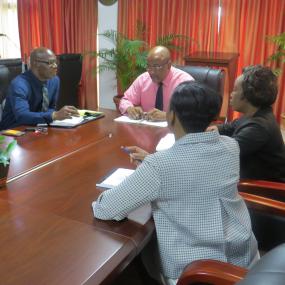 The Ministry of Health and Social Development is obtaining legal support to improve the administration of child justice legislation in the British Virgin Islands.
Deputy Court Administrator of the Eastern Caribbean Supreme Court based in St. Lucia, Mr. Francis Letang visited the Territory from August 23 to 27, and met with the Child Justice Reform Committee and the Sexual Offences Legislation Committee to formulate plans for this important initiative.
Deputy Secretary, Ms. Tasha Bertie explained that Mr. Letang's visit was a part of the technical assistance provided by the United Nations International Children's Fund (UNICEF), the Organisation of Eastern Caribbean States (OECS) Commission, and the Eastern Caribbean Supreme Court to develop a comprehensive Child Justice Policy Framework that is multi-disciplinary and child-focused in nature.
She said that the additional support will also aid in strengthening the Children and Young Persons Act, 2005 along with other child-related legislation and the development of other modern legislation surrounding children in line with the OECS model bills. The examination and effective implementation of these laws will serve to promote the wellbeing of children and families in the Territory.
The Children and Young Person Act, 2005 makes provisions for the protection of children and young persons in the Territory. The Act addresses the prevention of cruelty to young people; proceedings in youth court; and provisions preliminary to and trial of children and young persons.
The Eastern Caribbean Supreme Court is a superior court of record for the OECS member states which includes Antigua and Barbuda, the Commonwealth of Dominica, Grenada, Saint Kitts and Nevis, Saint Lucia, Saint Vincent and the Grenadines, Anguilla, the British Virgin Islands, and Montserrat.
The Ministry of Health and Social Development aspires to provide a caring and integrated system of health and social services that facilitates human development and improves the quality of life in the Virgin Islands.
Author