Premier's Office
Release Date:
Tuesday, 7 February 2017 - 4:46pm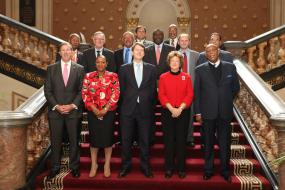 Premier, Dr. the Honourable D. Orlando Smith, OBE and other Overseas Territories (OT) Leaders attended the first UK-OT Joint Ministerial Council on European Negotiations (JMC OT EN) to discuss the implications of Brexit on the OTs and their priorities for negotiations.
Priorities discussed with UK Ministers were: freedom of movement, international trade and EU funding.
Premier Smith set out the BVI's priorities for international trade, including market access, stating, "The BVI sees international trade as essential to its economic future, particularly in the continued provision of services to international business, but also in goods in areas such as fisheries."
He added, "Undoubtedly we would like inclusion in any tariff-free trade arrangement the UK secures with the EU and I encourage the UK to secure this option for the territories so that BVI companies, whether domestic or international, maintain the ability to trade in goods competitively with the EU with as few barriers as possible."
The Premier also emphasised the importance of the UK supporting the territories to ensure they are not negatively impacted by protectionist measures such as EU blacklisting which would impede BVI access to the EU market.
He also highlighted the value of EU funding to the sustainable development of the BVI, stating, "In the 11th EDF programming process, the EU has recognised to some degree, their responsibility to support BVI and others that are among the most affected by the negative impacts of climate change that places our economy at risk."
Premier continued, "…we want the UK Government to commit to maintaining its contribution to the 11th EDF through 2020 to permit the BVI and other Caribbean territories to complete the programming process."
Premier Smith emphasised that freedom of movement in the EU for BVI citizens is of the utmost importance and as it is critical for business, higher education and other purposes.
Speaking on outcome of the meeting, Premier Smith said, "I am pleased by the outcome of our initial round of ministerial talks on Brexit negotiations in which we set out OT priorities and agreed in principle to hold two additional Ministerial meetings this year. BVI officials will be fully involved in the ongoing UK-OT technical discussions on Brexit with the UK Government in the months ahead."
The JMC OT EN was agreed at the 2016 OT-UK Joint Ministerial Council. UK Ministers who participated in the first JMC OT EN included Minister for Exiting the EU, Robin Walker; Minister of State for the Foreign and Commonwealth Office, Baroness Analey; Minister of State for Department of Trade, Lord Price, CVO; and Minister of State for International Development, The Rt. Lord Bates.
###
NOTES TO EDITOR(S): Photo caption
Group photo of attendees of the first UK-OT Joint Ministerial Council on European Negotiations (JMC OT EN) on February 7, 2017. (Photo credit: BVI London Office)
Author