Ministry of Health & Social Development
Release Date:
Friday, 4 May 2018 - 4:53pm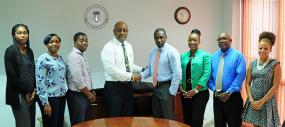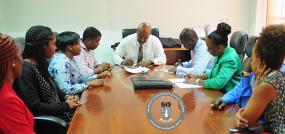 The Government of the Virgin Islands signed a Memorandum of Agreement (MOA) with the National Bank of the Virgin Islands (NBVI) today as efforts heighten to assist property owners in the rebuilding of their properties.
The agreement facilitates funds being deposited with the bank and the disbursement to beneficiaries approved by the Ministry of Health and Social Development who leads the Housing Assistance Programme.
Minister for Health and Social Development, Honourable Ronnie W. Skelton expressed gratitude on behalf of the people of the Virgin Islands to the bank for their continued partnership.
Honourable Skelton stated that many persons are still in the process of repairing their properties and that this programme is geared to help those most in need.
Under the terms of agreement, applicants of the Housing Recovery Assistance Programme will be assessed for subsidised loans. Partial or full grants will be considered based on financial need to meet basic building repairs or restoration.
Second District Representative Honourable Melvin Turnbull stated the signing of the MOA is a move in the right direction, while Chairman of the NBVI Board, Mr. Clarence Faulkner said the bank is ready and able to continue the on-going administration of the programme to ensure that it meets the objectives as stated.
Chief Executive Officer of the NBVI, Ms. Joy Francis also added, "Having experienced the devastation caused by Hurricane Irma first-hand, we understand the importance of housing restoration. As the Territory's only indigenous bank, we are proud to play an integral role in the rebuilding process."
The Housing Recovery Assistance Programme functions in accordance with the Housing Recovery Policy and Hurricane Irma Recovery Plan 2017 to 2019.
Property owners can apply for assistance under the programme by visiting the Old Peebles Hospital (Annex) at the Housing Recovery Unit, Monday to Friday from 8:30 a.m. to 4:30 p.m., the Social Development Department across from the Red Cross Building in Road Town or the District Offices in the Sister Islands. Applications with the listed requirements can be accessed online at www.bvi.gov.vg.
Persons are asked to telephone 852-7746 or 852-7782 for all other inquiries regarding the Housing Recovery Assistance Programme.
The Ministry of Health and Social Development aspires to provide a caring and integrated system of health and social services that facilitates the recovery of human development and quality of life in the British Virgin Islands.
Photographs attached:
Photo Caption 1 of 2: Pictured from left to right, Deputy Secretaries for the Ministry of Health and Social Development, Mrs. Natalie Fahie-Smith and Ms. Tasha Bertie; Second District Representative Honourable Melvin Turnbull; Minister for Health and Social Development, Honourable Ronnie W. Skelton; Chairman of the NBVI Board, Mr. Clarence Faulkner; Chief Executive Officer of the NBVI, Ms. Joy Francis; Chief Credit Officer of NBVI, Mr. Irvan Meade; and Managing Partner of O'Neal Webster, Ms. Vanessa King during the signing of the memorandum of agreement that took place on May 4, 2018. (Photo Credit: Ronnielle Frazer/GIS)
Photo Caption 2 of 2: During the signing of the memorandum of agreement between the Government of the Virgin Islands and the National Bank of the Virgin Islands on May 4, 2018. (Photo Credit: Ronnielle Frazer/GIS)
Author